While Notion also offers plenty of options for free and can be fully enjoyed by home users, the subscription plans have a few features up their sleeves that might be worth taking a look at.
From a long history to more members for teamwork, Notion plans to offer a lot of flexibility. But what exactly is the difference between the Plus and Business Plan? Check out this post for the comparison.
First, the quick overview:
Plus Plan
$8/month (billed annually) per user
Unlimited blocks for teams
No limit on file uploads
Up to 100 guests

Ideal for small teams without special security requirements
Business Plan
$15/month (billed annually) per user
All in Plus
Private Teamspaces
Single Sing-On Login
Up to 250 guests
Ideal for larger teams that don't need extra features for user management.

In the following, we will look at the differences in detail. If you are still not sure which of the two options fits better, as will surely help you.

Notion's pricing options at a glance
What does Notion offer different plans for?
Notion has adjusted and expanded its plans in December 2022. On the one hand, the Free plan was changed and contains more options, but the Business plan was also expanded. Plus and Enterprise have remained the same.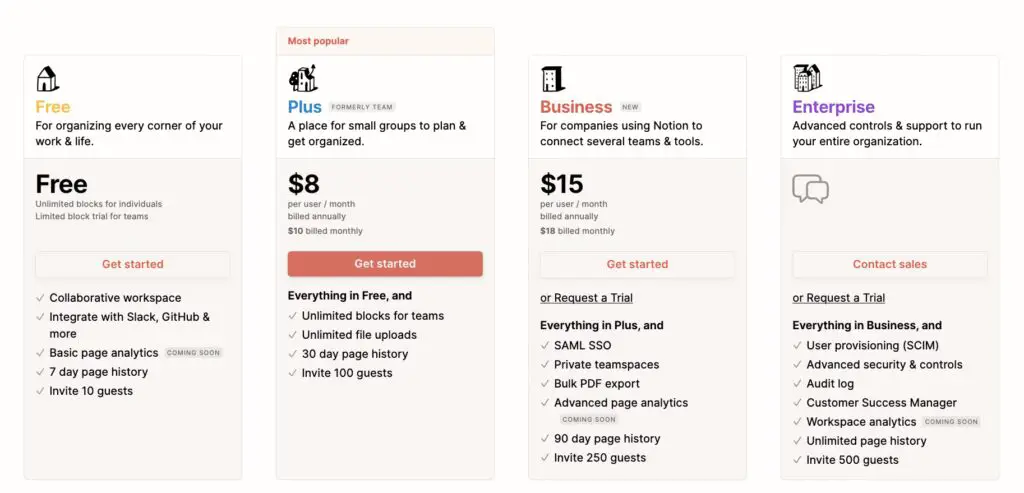 The differences between the plans are mainly due to team use. For private use, perhaps with a few friends and company members, the free plan is sufficient.
However, it gets tight when more than 10 guests want to participate or you handle a lot of files. Here, it might be worth switching to Plus or Business.
Overview of the Notion Plus and Notion Business plans
Notion Plus Plan – "A place to plan and organize for small groups."
Cost: $8 per month (with annual billing; otherwise $10 monthly)
Additional features: up to 100 guests, 30-day history, unlimited storage and blocks for teams
As long as there aren't more than 1000 blocks wasted in the entire workspace, you can test the Plus Plan for free.
Notion Business Plan – "For businesses that use Notion to connect multiple teams and tools."
Cost: $15 per month (with annual billing; otherwise $18 monthly)
Additional features: everything from the Plus Plan, up to 250 guests and 90-day history, SAML SSO, Private Teamspaces, PDF bulk export, advanced page analytics
You can also test the Business Plan for free. For a trial period, you simply need to fill out the appropriate contact form on the Notion page.

How should one decide between Plus and Business?
In the end, of course, it always comes down to your preference, how much budget you have, and what you want to use Notion for. For those who want to use Notion with others, even in the context of their own company, Plus or Business might be worthwhile.
Some of the additional features, especially in the Business plan, also offer a lot of settings options and help to organize the daily work routine. Below we take a closer look at the two plans, what features they offer and where an upgrade might be worthwhile.
Overall, Notion is an extremely practical tool for teams – regardless of whether they are in the Plus or Business Plan. In another article, we'll take a look at the pros and cons of Notion for Teams at a glance.

The Notion Plus Plan at a glance
Notion Plus is the less expensive plan but offers a number of features not available in the free version. According to Notion itself, it's aimed primarily at teams and companies that are just getting started and want to use this tool to manage their day-to-day work.
As with the free plan, Notion offers many features, most notably databases and easy conversion of data into different display formats. At the same time, this usage is extended with Plus and is tailored to smaller groups.
What are the main features and benefits of Notion Plus?
Plus makes it possible to be at a Notion workstation with up to 100 guests at the same time. The Free plan only offers a team size of 10 people here.
I have already written another post, in case you want to know more about the Free Plan.
Also, the Plus Plan offers a 30-day history, where changes in Notion can be tracked directly and deleted pages can be recovered. In the Free Plan, this is only possible for up to 7 days.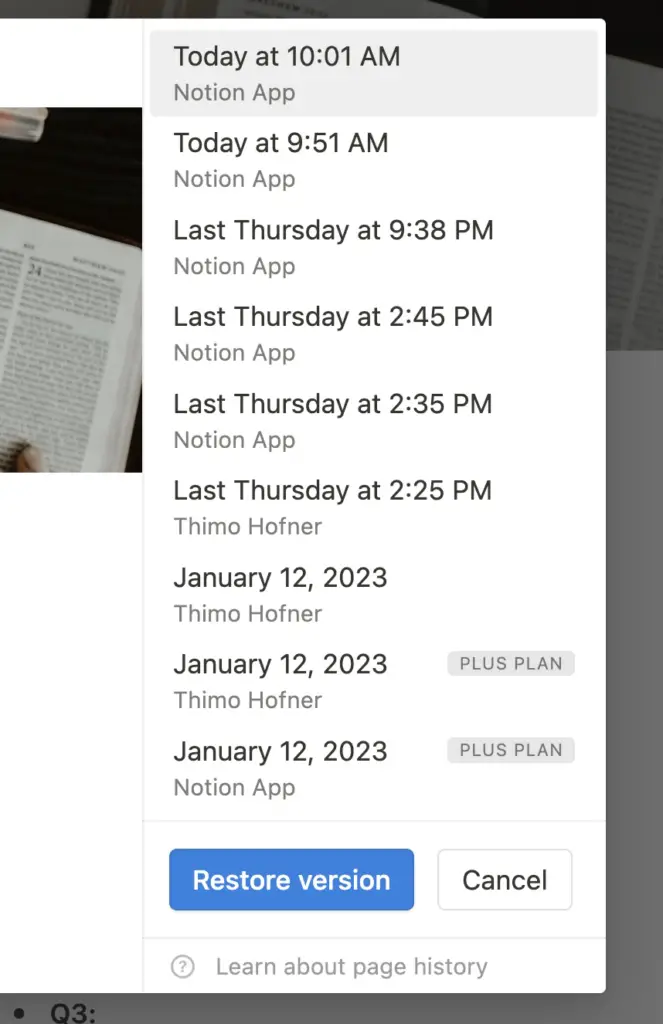 This provides greater flexibility and the ability to revisit or undo older ideas.
Another advantage of Plus is the unlimited upload volume, which is limited to only 5 MB per file for free. Thus, you can also temporarily store larger amounts of data in Notion and use it as cloud storage.
In addition, Notion can also be combined with other services, such as Drive or Dropbox. However, this is already possible in the free plan.
If Notion is used in a team, the free plan has a limit of 1000 blocks, i.e. units such as texts, images and tables. The limit is high but can be reached.
With Plus, this limit is removed. Plus also offers the possibility of creating a public website with notion.site domain. Another advantage is the integration of external databases, which is unlimited with Plus. In addition, you get priority support in case of problems.
The ideal user group for Notion Plus
The Plus plan is especially suitable for team sizes that are between 10 and 50 members, but also for individual users who want to use Notion for more than just a normal note-taking program.
For teams, syncing with other tools is worthwhile, as is collaborating on a Notion page. For home users, the unlimited possibilities in data storage are also worth a look.
Creating a public homepage with Notion is also handy, whether for teams or individuals.
The Notion Business Plan at a glance
Notion's Business Plan includes all the same benefits as the Plus Plan. However, there are some additional features that make it suitable for extended use, especially for large teams with many members and guests. The admin is given better tools here to manage subpages for teams.
What are the key features and benefits of Notion Business?
Business offers a 90-day history and an expansion of guests up to 250. All the other benefits of Plus are also integrated, including unlimited file uploads, unlimited blocks, public domain and integration with other databases, as well as the use of the Notion API.
Additional features are especially interesting for teams, as private team spaces are only available around Business Plan. As an admin, this allows you to set specific areas where trusted information is shared in a small circle.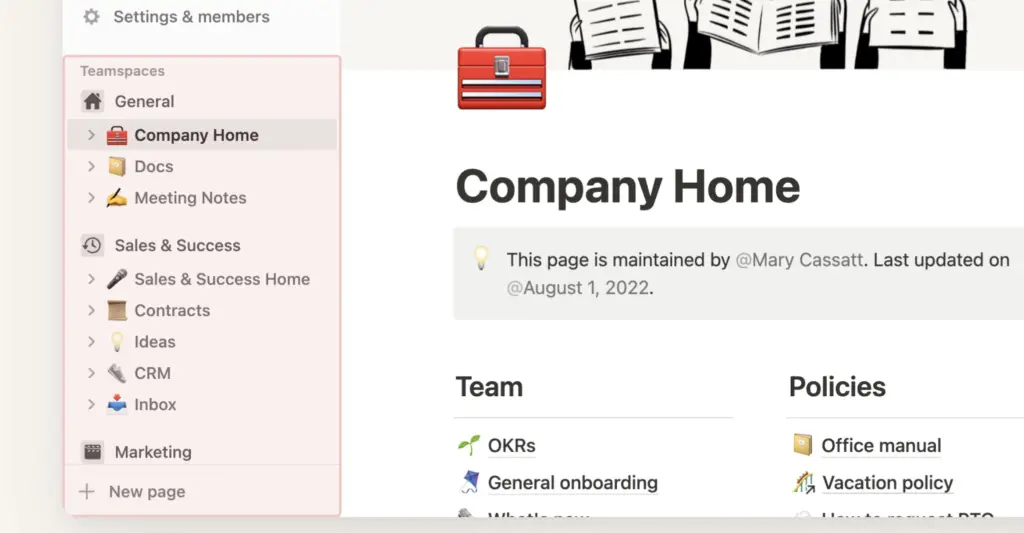 But it can also help to divide large teams into groups. The public Spaces of the Free and Plus Plan, on the other hand, are theoretically accessible to everyone. Private Teamspaces offer greater flexibility here, but also better privacy for individual member groups and topics.
Furthermore, Business offers an export of data as PDF. With Free and Plus, only HTML, Markdown and CSV are possible here. PDFs are more flexible and can then be used in certain company meetings. In addition, logging in via SAML SSO (Single Sign-On) is possible in the Business plan.
For individuals, this feature is not so important, but for large groups, it assures a secure and easy use of a Notion site in combination with other providers.
The ideal user group for Notion Business
The Business Plan is suitable for large teams and companies that want to actively integrate Notion into their everyday work. It offers an even larger set of groups that can be divided into private pages.
There is also greater protection for members and a better management structure for the admin. Business comes into play when Notion is essential for working in a company and is also used as a tool for handling personal and confidential data.
Also, the combination with other services through SAML SSO simplifies the usage of big data with other providers in connection with Notion.
Notion Plus vs. Business – The comparison
Prices
The Plus plan costs $8 per month, which translates to $96 in annual billing. If paying monthly, then the price rises to $10 per month.
The Business plan costs $15 per month, which means $180 at the time of annual billing. If you pay monthly, the price is $18. Business is therefore about twice as expensive as Plus.

Target group
Plus and Business are specifically targeted to their respective audiences. While Plus is aimed at smaller teams and companies, and in some cases also at private individuals, Business is designed purely for large corporate structures.
This is particularly evident in the additional functions, security and handling of larger data volumes. Many features (file upload, blocks, API usage, etc.) also overlap, making the Plus plan a good value for small teams or home users.
Choosing between Plus and Business – The most important factors
The most important factor here is the size of the team. Plus offers access for 100 guests, while Business extends that to 250 guests. For both, however, the creation of blocks and sub-pages is unlimited, unlike the Free plan.
If you want additional security, exporting of PDFs and private team spaces, you'll have to go with Business.

Notion Plus vs. Business – Conclusion
Plus and Business both address the use of Notion in the area of larger workgroups. While Plus is designed for 100 guests, Business extends this up to 250 guests for a Notion site.
Both plans offer unlimited features in terms of file uploads and a number of blocks. In addition, both deliver API usage. The Business plan additionally has a 90-day history, PDF export, SAML SSO support and private team spaces.
How do you choose the right plan?
In most cases, the Plus plan is worth it because it offers just about all the features needed for extended team use. Business is worthwhile if Notion is really active and essential for the work in a large company.
For many teams, however, it is worthwhile to start with the Plus Plan and only upgrade when you really reach the limits of your work. Because it may well be that it never comes to that and then you save as a team almost 50% of the costs.
Otherwise, you probably won't use the additional features, because Plus is already very mature compared to the Free Plan.
Just try it out with Notion!
The best thing about Notion is that most of the features are also in the free plan. Basically, you can try out and test as much as you like before you decide to go for a paid plan.
First, familiarize yourself with the basic features of Notion and use them to think about how you could use it in your everyday business life together with employees. Notion is versatile and subscriptions can always be customized.
Work smart, not hard 🎓