Notion can not only be used alone but is also a very practical tool for teams. With automatic storage in the cloud, simultaneous use of Notion pages, and countless features, it has convinced even larger business teams.
In this post, I'll show you the pros and cons of Notion when working in a team. If you're in a hurry, here's a quick overview right away:
Notion's advantages for teams
Notion's disadvantages for teams

In this post, of course, you'll not only learn the bullet points but also the detailed descriptions of the pros and cons and their implications.
Personally, I think Notion is a great tool especially for small and medium-sized teams to increase productivity extremely. But it's best if you make up your own mind. You can test Notion for teams completely free of charge:

What makes Notion for Teams so special?

What is Notion and what can you use it for?
Notion is an online service for taking notes. However, it goes far beyond the notes we are familiar with in a smartphone app. In Notion, you can create entire databases, with sometimes complex links and tables.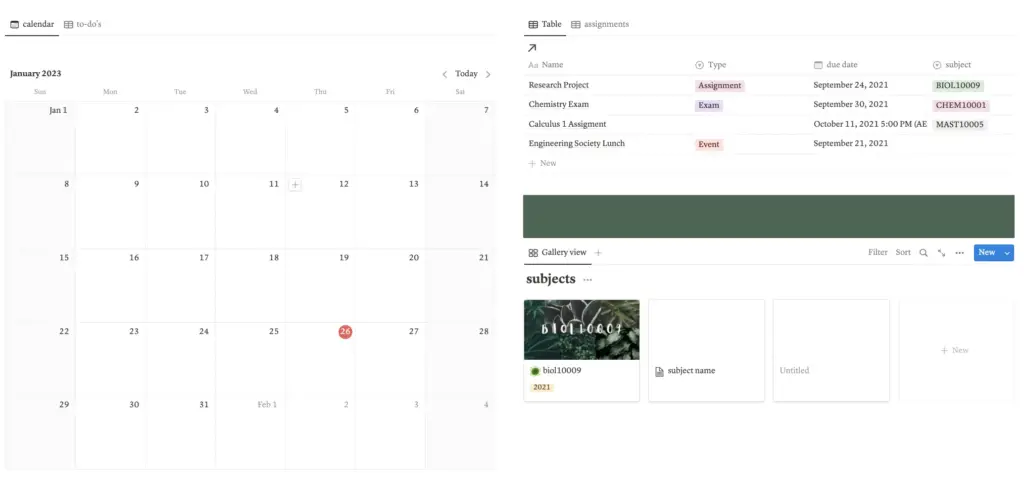 It is suitable both for private use, here, especially in the academic field, but is also a good alternative to expensive programs for teams and companies. Notion is very flexible in its use.
Notion is becoming more and more popular!
Meanwhile, Notion has spread around the Internet and is a popular solution in the space of one's own productivity. Since a lot can be organized with Notion, be it private or professional, it covers a large target group.
There are now many millions of users who resort to Notion and use it on a small and large scale.
In large part, it's because of the platform's accessibility. It offers many features but does not necessarily have to be used for complex tasks. Plus, it's available everywhere, whether on a PC or smartphone. Data is synchronized and stored quickly and easily.
Is Notion free or do I have to pay?
Basically, Notion is a free platform that does not hide features behind a paywall. For private use, no purchase is necessary. Even for smaller teams, you don't necessarily have to pay for a plan, many of the elements are perfectly sufficient.
In another post, I explain the limitations of the free Notion version. if you want to know more about it.
Only for larger teams, there are the Plus, Business and Enterprise plans. They offer more space for team members and a lot more setup options that go far beyond Notion's standard offerings. However, in most cases, these are very specific and far from relevant for everyone.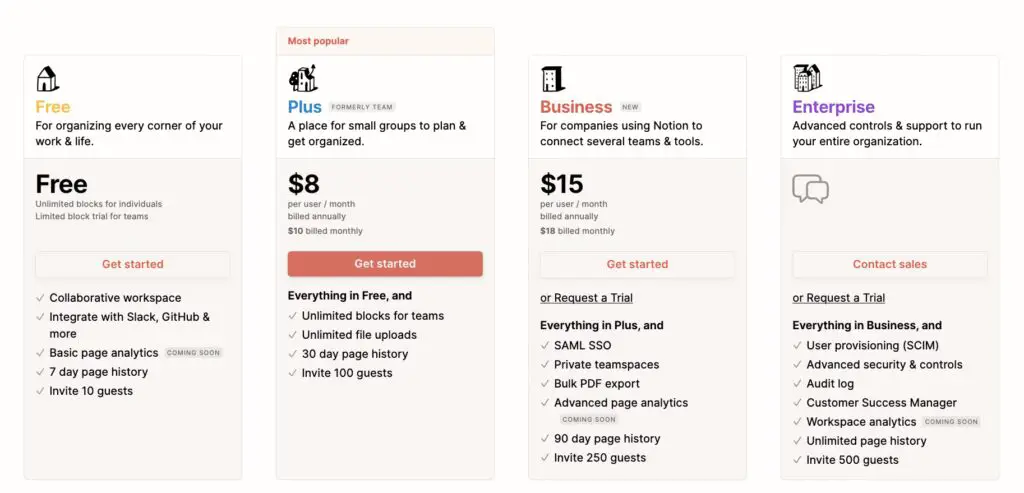 Overview of plans:
Plus ($8 per month): 30-day version history, up to 100 guests, unlimited blocks and file uploads
Business ($15 per month): SAML SSO, Private Teamspaces, bulk PDF export. 90-day expiration, 250 guests + people from outside allowed
Enterprise (price varies): SCIM, security and control capabilities, audit log, Customer Success Manager, unlimited history/guests

The Pros and Cons of Notion for Teams
Pros – What speaks for using Notion?
1. Notion is very flexible: numerous use cases
As mentioned earlier, Notion has a large number of features that can be used privately or in a business setting. From simple tasks to complex databases, Notion can accomplish a lot. It is not just a simple note-taking program, but can also be used by businesses.
If you don't have much of an idea of what this means, I recommend you get inspired by the stories of other companies that are already using Notion.
On Notion's site, you can find many examples from companies of different sizes. The use cases are diverse. From simple to-do management, KPI tracking and planning to extensive project management, it's all there.
2. Good collaboration features for joint success
One of the new features in Notion is Teamspaces. These can be created in the column on the left, under "Create a new teamspace". This makes it possible to make Notion clearer and separate private pages from those for work.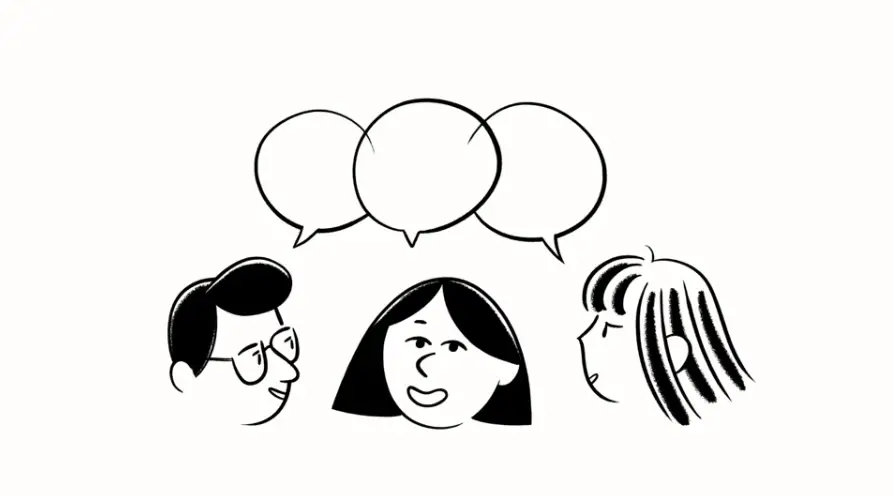 The teamspaces can be created just like normal Notion pages, with the same blocks and settings.
But that's not all. With the additional Teamspaces you as admin can determine who can write on which page, who can only read which sections and who can't see them at all.
For workgroups or different teams, it is possible to put everything on one Notion page, but only set the members who are only allowed to see a certain page.
It is also possible to determine to what extent a Notion page can be exported and shared publicly. This provides a high degree of flexibility.

At least one team space must apply to all members and be created as a hub. From there, however, the various participants can be divided into other groups.
The subpages work just like private Notion pages, there is no difference. And depending on the access, the Notion overview then looks different for each team member.
In the free version, up to 10 guests are possible, in the following plans 100, 250 or unlimited. Guests can be easily invited to specific pages via email.
The difference between team members and guests can sometimes be confusing. Therefore I have explained in another post, what the differences between members and guests are.
In addition, the version history can be viewed. With the free plan, this is valid for up to seven days, with the others for 30, 90 or unlimited days respectively.
3. Notion as website or help center ("Share to the Web")
Every Notion page can also be shared as a normal website. Many people are not aware of this feature, but it makes it easier to share certain content in teams or publicly.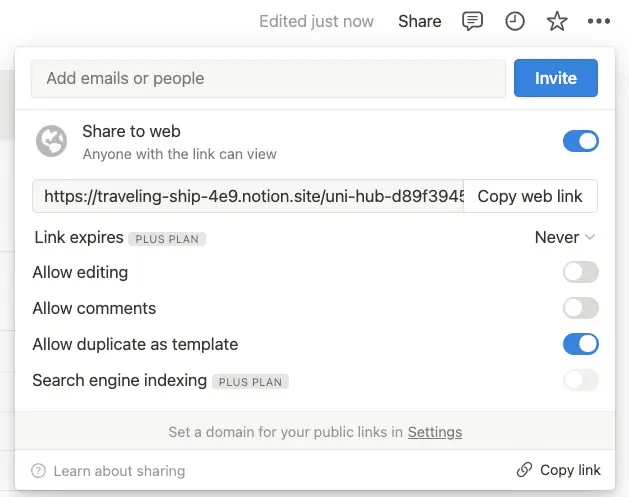 In the upper right corner, there is a button "Share", which can be used to share a Notion page. There are several settings options here. The page can be shared with specific users, or it can be publicly accessible via the link.

With "Share to the Web" pages, and additionally, corresponding subpages can be shared publicly. Here you can decide whether these can only be viewed, commented on, copied or also edited.
For teams or companies, this can be handy to make certain information that has been discussed in Notion public. With its blocks, Notion is a simple construction kit and is thus similar to other website construction kits.
Especially for startups that may not have a proper website yet, Notion is a perfect way to quickly build an online presence.

4. Many customization options – Notion can be almost anything
Notion is best known for its databases, which offer many different customization options. There are simple text blocks, tables, calendars, boards, timelines, lists and galleries.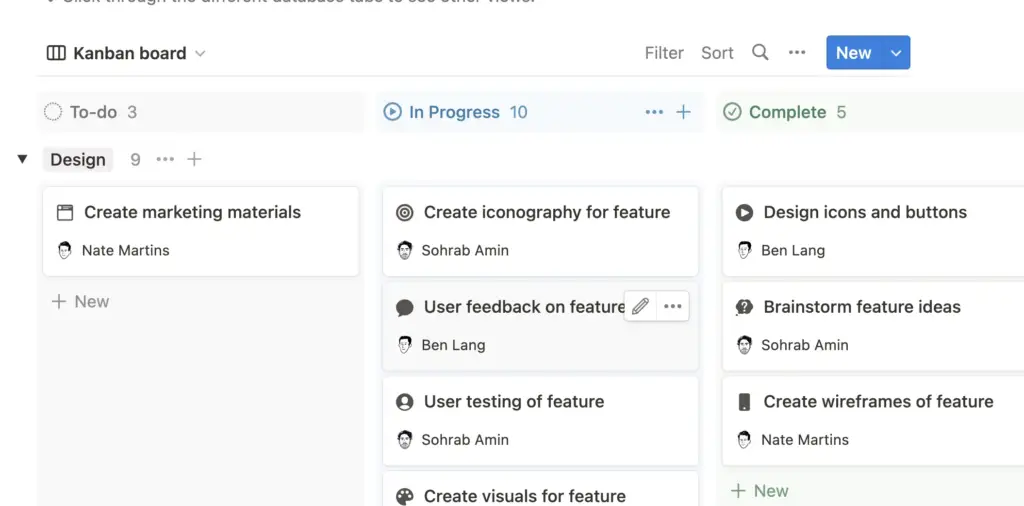 In addition, most sub-sites can be moved back and forth between these systems, as they all use the same structure. For example, one team might need the calendar overview, while another needs the table form.
These databases can be duplicated and synchronized for a great workflow.
In this way, you can build very complex and custom systems with Notion. In the end, Notion is what you and your team make it for.

If you want to know more about how to use templates and where to get them, you should check out this post: Duplicating and Using Notion Templates
5. Good integrations with other websites and tools
Notion is good at linking a system to other websites and tools. This includes simple embeds from links to Google Drive, Dropbox or Zoom to synced databases from Slack or Zapier.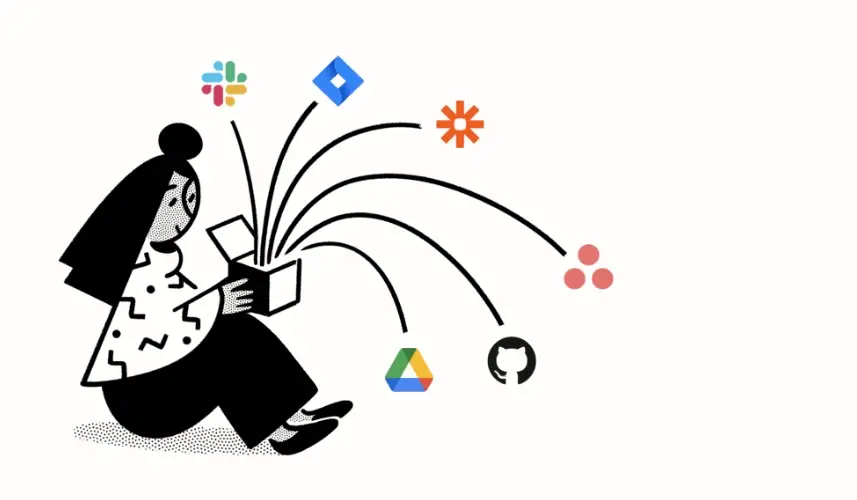 If your team is already using these programs, then they can be easily integrated into Notion. Notion thus offers an open system that can't be used on its own. The integration and linking to other websites make it possible to incorporate workflows that have already been used before seamlessly.
Notion themselves call the integrations Connections. On their site, there is also a super good overview of all available Connections – whether developed by themselves or by Notion partners.
6. Good searchability – always find what you are looking for quickly
Since Notion stores its data online, a teamspace is also very easy to search. There are different settings options to sort by. For large and complex teamspaces with many subpages this can help to get a better overview.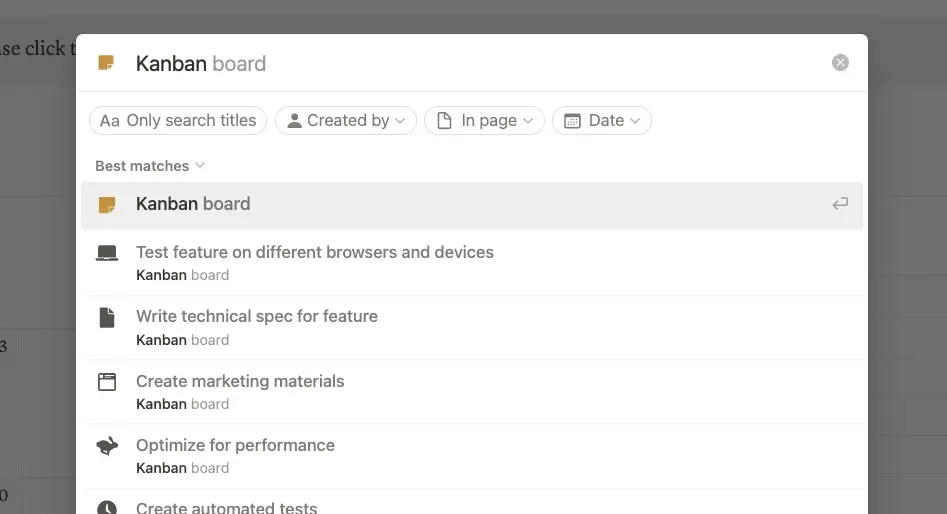 Notion is also often used as a knowledge network. Especially here, the simple integrated search is extremely important to quickly find your way around.
7. (Soon) Notion AI support: Similar to Chat GPT
Notion AI was announced a few months ago and is currently available in the test phase for various users. This is an AI texting feature, similar to what is already available from Chat GPT or other providers.
For teamwork, this can be a very valuable resource to speed up the workflow. Of course, it does not replace the actual work, but it can be used in a supportive way.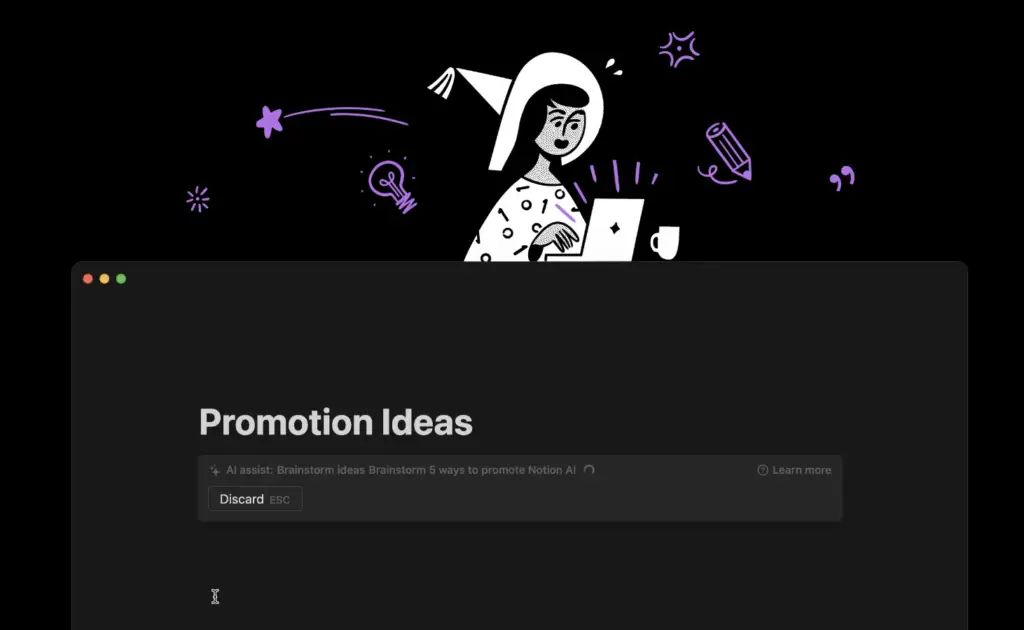 Possibilities of Notion AI:
create direct texts from templates and suggestions
Collection of ideas
Pros and cons for a specific topic
automatic translations
… and much more!

8. Try Notion for free – even as a team
The best thing about Notion is that most of the features are free and you can try them out easily. This means that Notion for teams can also be tested before it is incorporated into the daily work routine.
There are no real feature limitations here and Notion can be experienced first. If you don't like it, you haven't spent any money and you might even learn a thing or two.
Click here if you want to try Notion.
Disadvantages
1. Learning curve in Notion: Flexible, but not always intuitive
Notion can be a very complex program, but it doesn't have to be. It can be hard to find a good middle ground here. Many functions are simple and quickly explained, but this can possibly overshadow certain areas of use.
The true depth of Notion is difficult to grasp and can only be unlocked by working with the program for several months. This makes it seem flexible on the surface, but it is also difficult to master. Even more so, features are constantly being added and expanded.
2. Challenge to introduce it for teams
For teams, Notion can also lead to problems. After all, employees have to get to know a completely new platform. The level of knowledge can therefore vary greatly, making collaboration difficult.
Maybe some have already used it privately, but others don't know it at all. Bridging these gaps is a big challenge and can leave some members of the team on the sidelines. Proper onboarding is critical here
3. The missing 20 percent of specialization
Notion is very well developed, but cannot be a solution for everything. Sometimes exactly the functions that can support a project 100 percent are missing. Notion is often an 80 percent solution here, which is unfortunately not always sufficient.
For example, project management features are missing, including tracking times. You may eventually reach limits and not be able to complete work tasks entirely in Notion.
In some cases, specialized tools offer the necessary functions to optimize processes even better. Of course, this also depends on the specific use case. Because it can be just as much of an advantage to do everything in just one tool.
4. Pricing structure: not cheap, but fair
With the free plan from Notion, you can actually get quite far, but from a certain team size, you have to use a paid plan. Here you have to pay per member in a workspace, so it can be an expensive affair.
It might be worthwhile to create several Notion accounts and link them to each other. In this sense, the system is very fair and the monthly price can be kept within limits.
5. Security features have some limitations
Notion still lacks some basic security features, which can lead to problems, especially with large team structures. For example, there is no two-factor authentication, which always poses a certain risk.
In addition, the correct settings should always be checked to see if someone can view or even edit certain Notion pages. This is not always communicated properly.
6. No good integration with Google Calendar
Notion and Google Calendar can be used with each other, but the integration does not work properly. There can be problems in the synchronization of the data and the calendar can not be built directly into Notion databases.
Here it can be worthwhile to use Notion's calendar directly, but this is not always an elegant solution for teams and appointments that are imported from outside. This may change in the future, but currently, it is a problem for some users.
Is Notion the right tool for your team?
The great thing about Notion is that it can be used by any team because it is so flexible. But at the same time, that also makes it difficult to decide in the end.
"Should I use Notion? And if so, for what?"
Basically, I can say that Notion is super for teams that want to manage their work (or large parts of it) on just one platform.
Notion is great for smaller teams
Notion and its features really shine when used in small teams. Here, even the free plan can suffice if only up to 10 people are working on it. (Then just as a guest)
Notion offers a variety of creative solutions and can be used to work on collaborative projects. Everything is in one place and can be customized. This makes it extremely interesting for small to medium-sized teams.

Challenges with large teams
For large teams and companies, Notion can also take care of a lot, but not all features can be smoothly integrated into the daily work routine. As mentioned earlier, the features often only suffice up to 80 percent.
Notion sometimes cannot yet offer the finer details. For example, with regard to project management in Notion, important functions are missing that tools like Monday, Asana or Trello offer by default.
Specialized programs, therefore, offer better solutions here, which is also due to the fact that Notion wants to cover a wide range of users.
However, Notion does not have to cover everything but can be used in a specialized way. It can offer creative solutions, depending on where and how you want to use it.
So, Notion can be a great solution for large companies and corporations. It is not without reason that it is successfully used by teams at Pixar, Blinkist or Adobe, among others.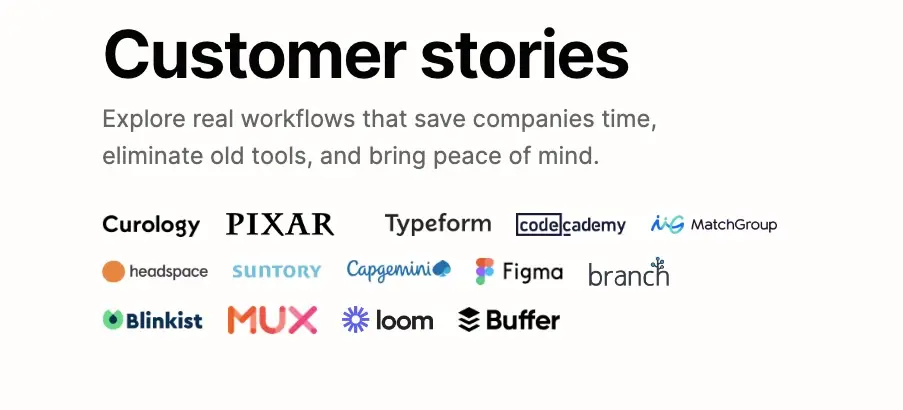 The best thing to do is to see for yourself if Notion can help you and your team achieve your goals.
I hope I could help you with this post to better understand the features and benefits of Notion. At the same time, I also wanted to show that there are legitimate concerns with all the hype. Either way, I wish you the best of luck!
Work smart, not hard 🎓