A big advantage of Notion is that in many areas you don't have to start from scratch to create your own pages and structures. Because for the vast majority of use cases, there are already many templates that you can easily use.
In this post, I'll show you how to import existing Notion templates into your setup and work with them. Here is the quick answer:
To use a template in Notion, here's how to do it:

1.Find the template you want (e.g. by searching in the Template Gallery)
2. Open the template so you can view it
3. Click on "Duplicate" in the upper right corner to import the template to your notion

Later in the post, you'll get more detailed instructions on how to do this, as well as info on how to use templates from sites other than Notion itself. If you are looking for something specific, here is a post overview for you.

What is a Notion Template?
A Notion template is a publicly shared page that you can duplicate and use yourself. This way you can benefit from the work of others. If you are a student, for example, you can simply use an existing student dashboard and don't have to create your own.
A template can contain much more than just one page. Because when you use a page as a template, you also import all its subpages.
Once you have duplicated a template into your setup, you can customize and change it as you wish.
Anyone can create and share Notion templates. I have already written a separate article about this if you are interested: Create and share Notion templates yourself.
Duplicate and use Notion templates (tutorial)
For Notion, there are already countless templates on various sites. Many of them are free, but there are also some for which you have to pay some money. More about that later. For now, let's look at the most common source for Notion templates: the Notion App itself and the Template Gallery.
In Notion, you will find the menu item "Templates" in the lower left corner. If you click on it, a window opens with free templates that are integrated into Notion.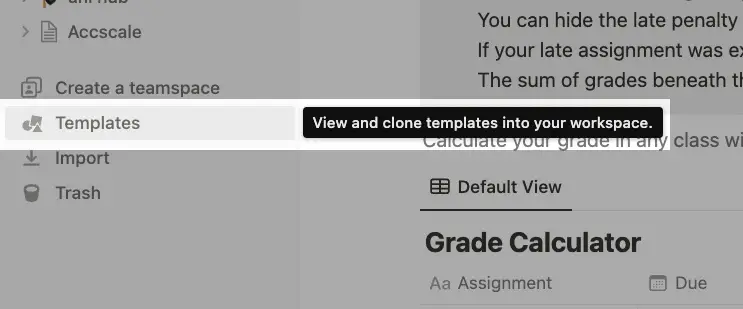 In this window, you will find a link ("More from the Community) to other templates in the Template Gallery, which have been created by other users.
The way you can import templates into your Notion setup is always the same:
Step-by-step instructions
1. Find the desired template (e.g. by searching in the Template Gallery)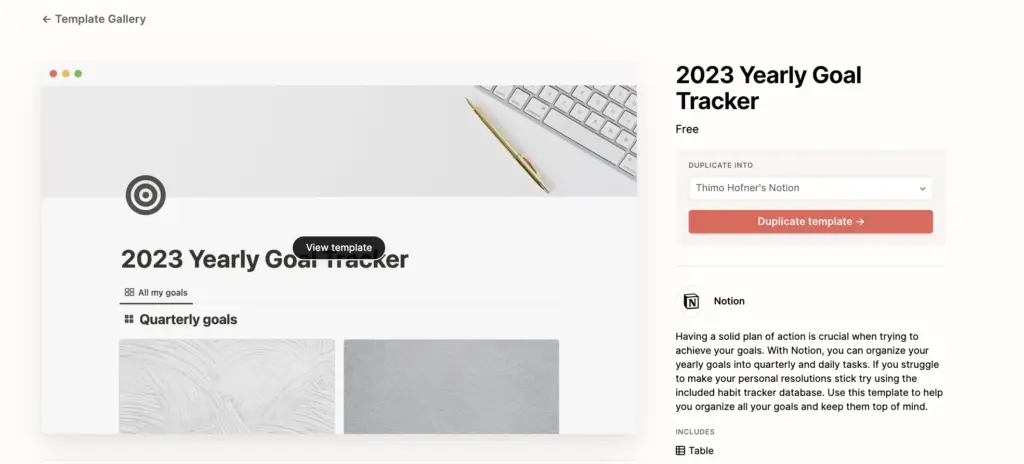 2. Open the template so you can view it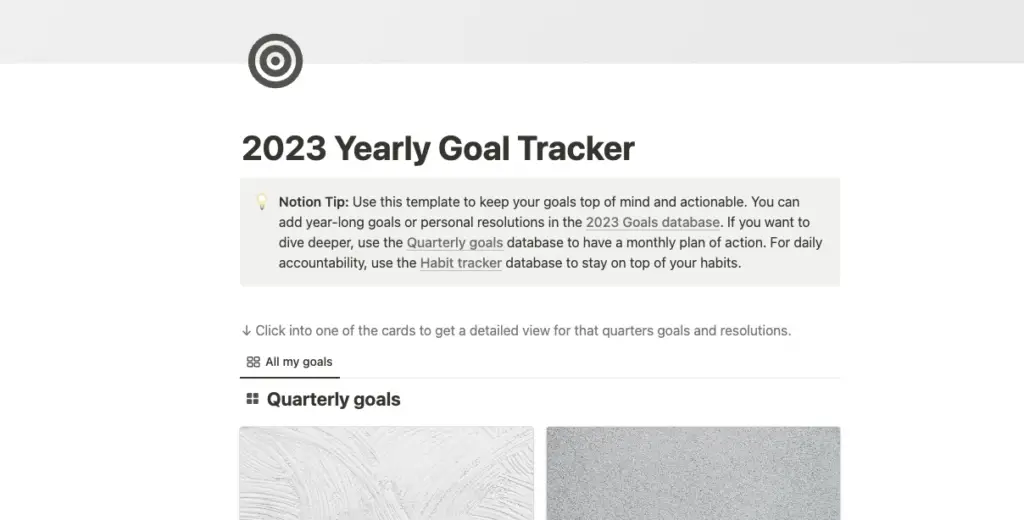 3. Click in the upper right corner on "Duplicate" to import the template to your Notion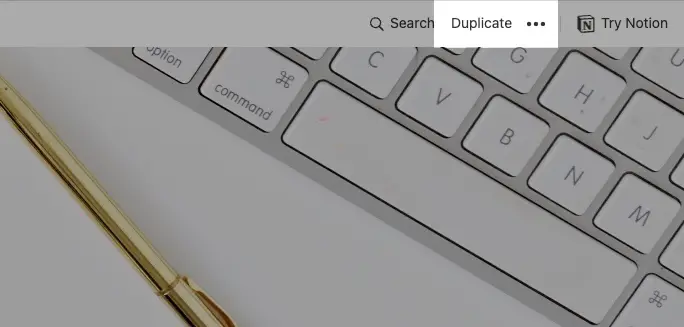 Alternatively, you can click directly on "Get Template" or "Duplicate Template" in Notion or in the Notion Gallery.
Use Notion templates from other sites
Notion itself offers with the Template Gallery and the directly integrated templates already a large selection, but there are many other sites where you can get Notion templates (also for free). But how does the import of templates work then?
The answer is simple: No matter which site you are on, you always get a link to a publicly accessible page in Notion. From there you can duplicate it as described above.
Hence, there is no possibility to download a template and then upload it in your own area.

Find suitable Notion templates – This is how it works
No matter if you are a student, freelancer or business user, there are many interesting templates that perfectly fit your needs and save you a lot of time.

Integrated templates
Your first port of call should always be the integrated templates. These are already divided into 10 useful categories, so you can quickly find what you are looking for. You can also filter by category or simply search by keyword.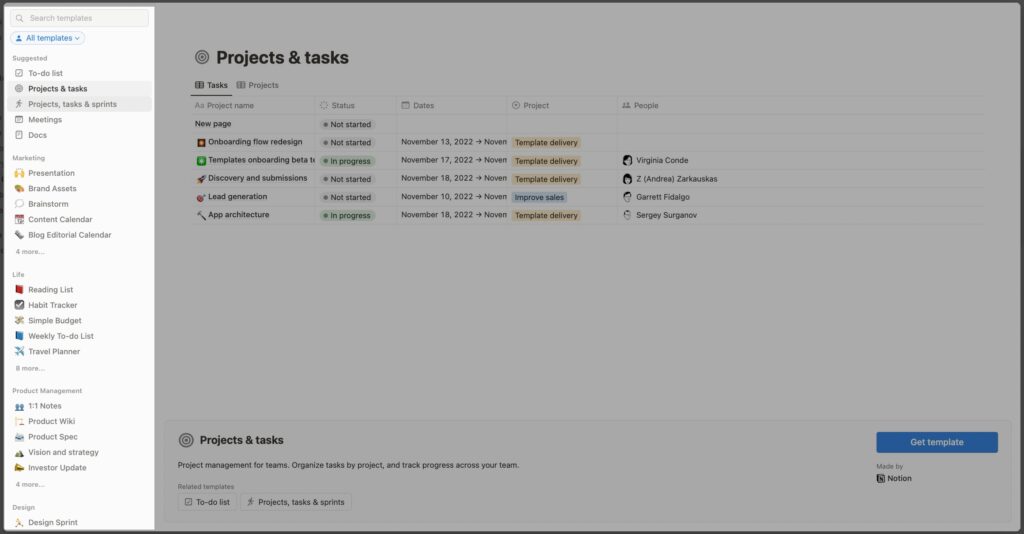 Notion Template Gallery
If you haven't found what you are looking for yet, you should try the Template Gallery. Here you have a much larger selection. But beware: Not all of the community templates are free.
If you are looking for something specific, you should use the search bar. So you can find it quickly: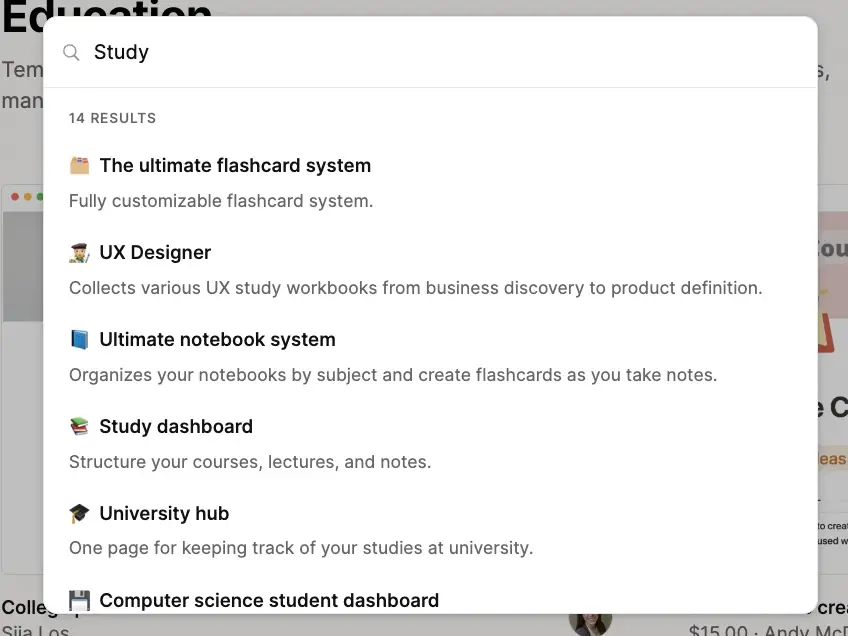 The best sites for Notion templates
Besides Notion itself, some other sites have established themselves as useful sources for templates. Often you will find more sophisticated structures and pages for specific use cases. In most cases, these are then also subject to a fee.
If you want to learn more about the cost of Notion Templates, you should check out this article: How much do Notion templates cost?
Here is a selection of the most popular sources: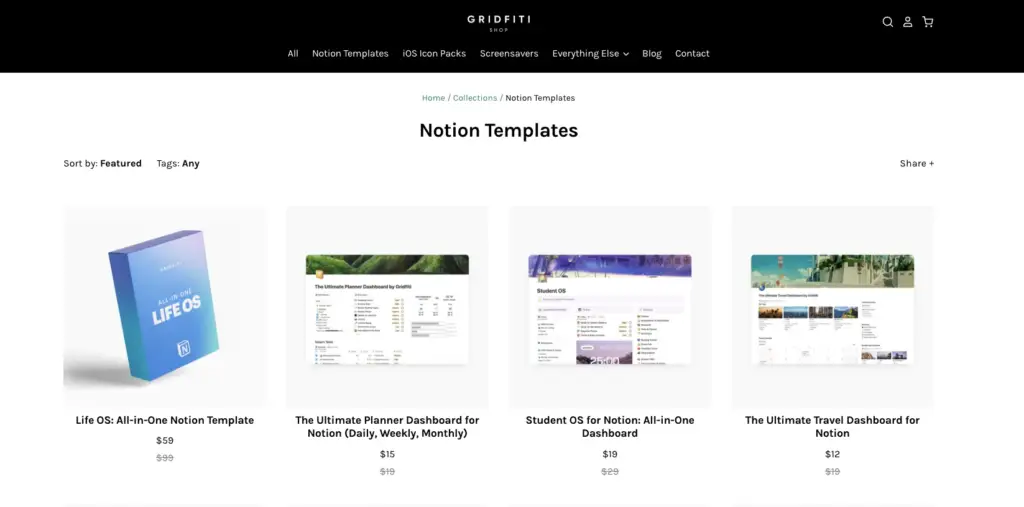 Gridfiti is a handy online store where you can find free and paid Notion templates. When you buy a template, you will receive a PDF containing the link to the corresponding Notion page.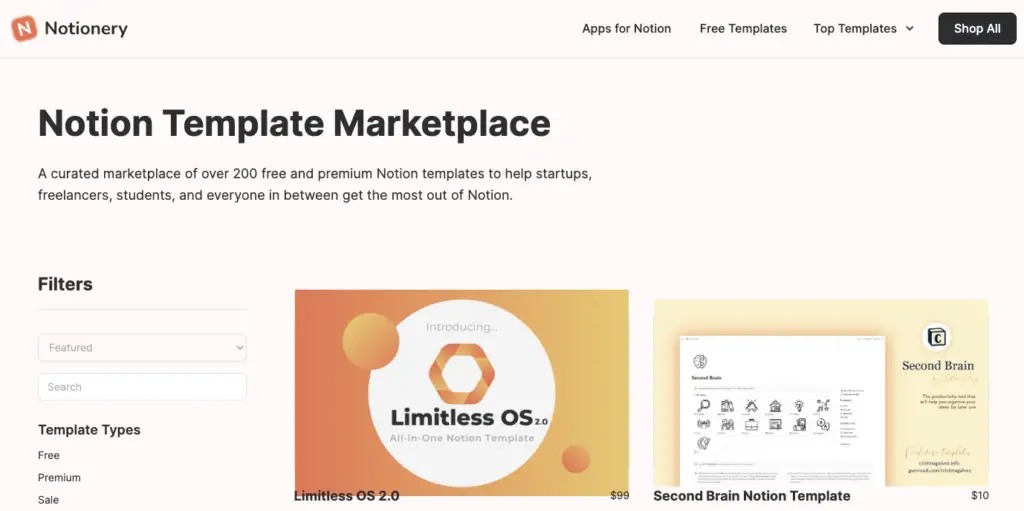 Notionery is a curated marketplace with over 200 free and premium Notion templates to help startups, freelancers, students, and everyone in between get the most out of Notion.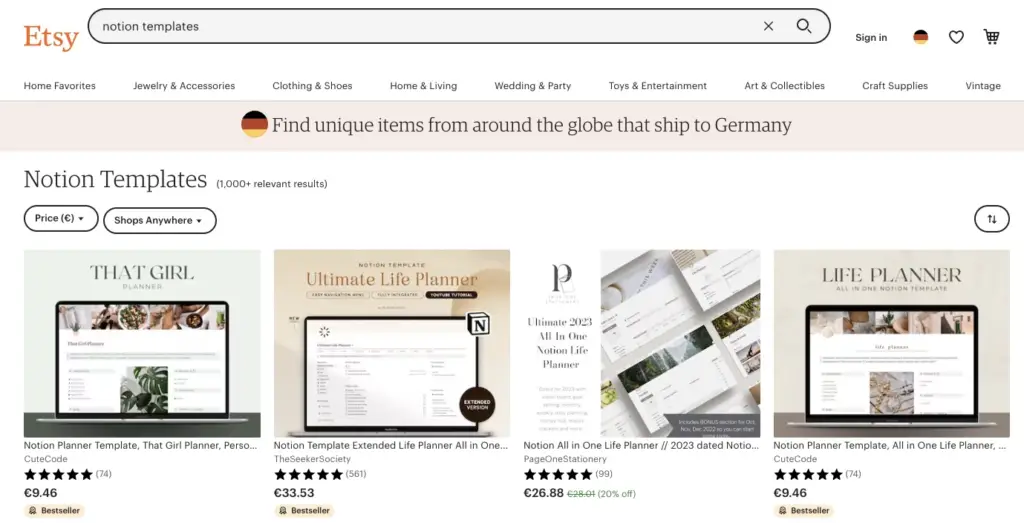 It's also worth browsing for Notion templates on the increasingly popular online store Etsy. There are now well over 1000 different templates available, ranging in price from 6€ to over 1000€.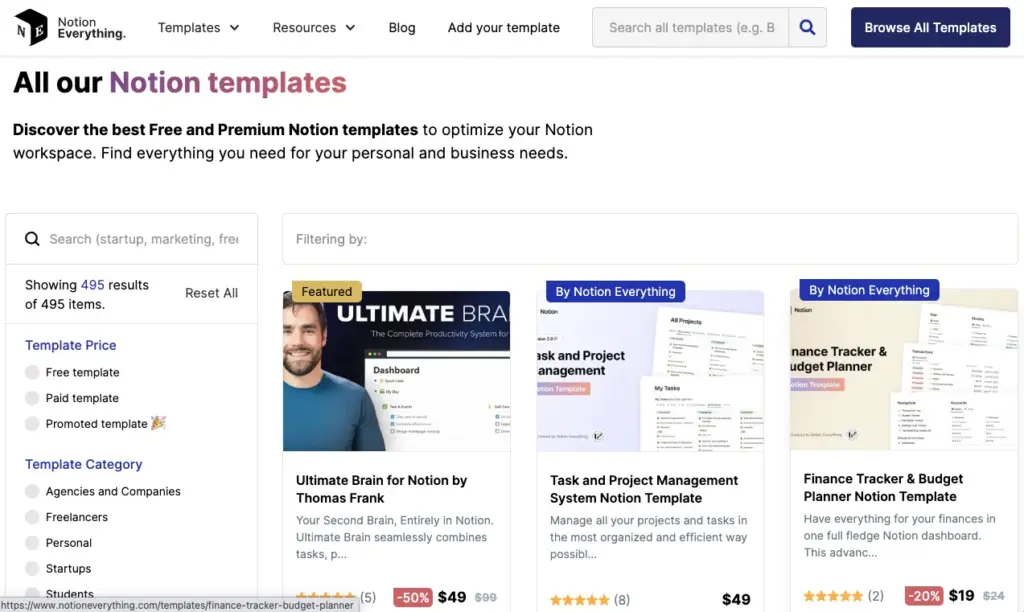 Notion Everything is also a good source for Notion templates. There you can find free templates for private life as well as templates for companies and freelancers for specific business topics.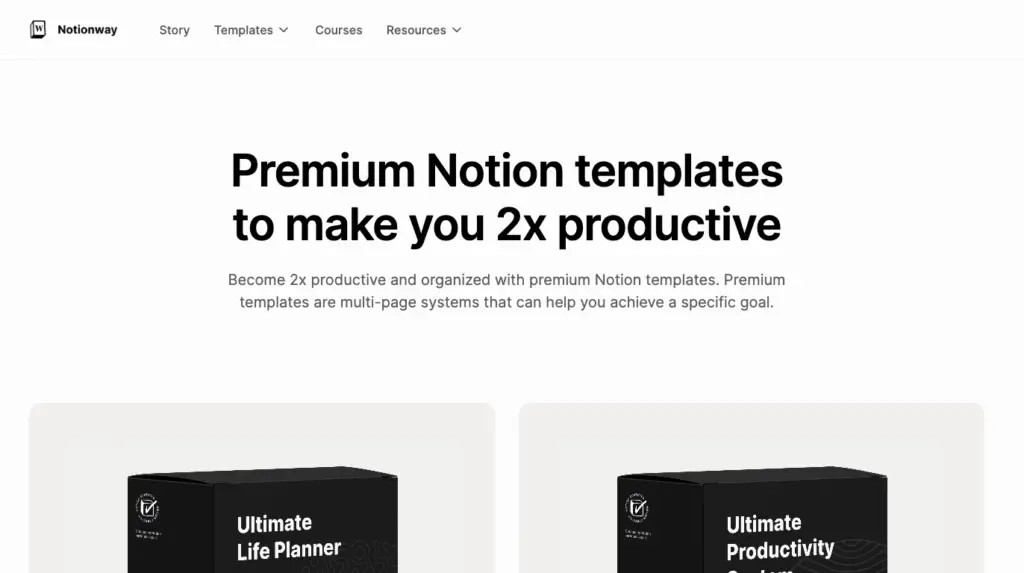 At Notionway the templates are divided into the categories Free, Simple and Premium.
Why you should use Notion Templates
Last but not least, I would like to talk about the advantages of templates in Notion. However, it is also important to emphasize that they are of course not the solution for everything. Therefore, we now come to the advantages and disadvantages of Notion:
Notion Templates: Advantages and Disadvantages
Advantages
Templates save time: Ideally, you will find a good template for your use case, which you can work with directly or use as a starting point.
Prefabricated structure: Especially if you are not so experienced in Notion, a template of an experienced user can give you a perfect structure, with which you are more productive.
Good inspiration: Often, when I don't quite know how to build a page in Notion, I look for similar templates. Even if I don't use them, I get better ideas for a good structure that way.
Disadvantages
Templates do not always fit individual requirements: Especially for complex tasks, templates that don't fit exactly can add more effort than they save time.
Templates may contain unnecessary "ballast": Some Notion templates may contain elements that are not relevant to certain projects or workflows, which can lead to a cluttered page.
Lack of understanding of structure: Since you are not setting up templates from scratch, you may not really understand how individual elements are linked together.
Notion Templates – Useful but not the solution to everything
In this post, I showed you how to easily find and duplicate templates. However, you should keep in mind that they are not the solution to everything. Because your requirements are often very specific and templates are often rather general.
Therefore it is worth choosing templates carefully and using them only as an inspiration for your own setup. I hope I could help you with this post. Thanks if you are reading this. You are clearly on the right track 🥳
Good luck with Notion!
Study smart, not hard 🎓