Whether in studies or at work, there are many tasks that are repetitive. To avoid always having to start from scratch in Notion, there is the possibility to create templates. They can save you and others a lot of time and effort. In this post, I'll show you how to create Notion templates and share them with others.
Here's a quick answer. How to create templates in Notion?
Create a Notion page (with subpages if necessary) that you want to share
Navigate to this page and click on "Share" in the upper right corner
Activate the "Share to the web" option
Make sure that the option "Allow duplicate as template" is activated
Share the template by distributing the link yourself or by offering it on template sites
Of course, that's not all. In this post, I explain everything you need to know about creating good templates, how to share them and increase the chances that others will use them. If you're looking for something specific, here's a post overview:

What are Notion Templates and what are they used for?
A Notion template is a publicly shared page that you can duplicate and use yourself. This way you can profit from the work of others. For example, if you are a student, you can simply use an existing student dashboard and don't have to create one your own.
A template can contain much more than just one page. Because when you duplicate a page as a template, you also import all its subpages. If you use someone's template, you can then customize and change it as you wish.
I have already written another post if you want to know how to create duplicate and use templates from others.

Common use cases of templates
As mentioned at the beginning, templates are very useful, especially for recurring tasks. A template can also contain more than just a task – in fact, an entire system:
Example:
For example, there are many templates for organizing personal life. After all, everyone has to take care of similar things in everyday life. Here are a few examples:
Household to-dos (e.g. cleaning schedule)
Shopping lists
Travel plans
Overview of budget and finances
Weekly Schedule
This could go on forever. But I'm sure you get my point. So now, if you want to use Notion to organize your daily life, you can simply use one of the many templates.
A popular example is the Life OS: All-in-one Template from Gridfiti.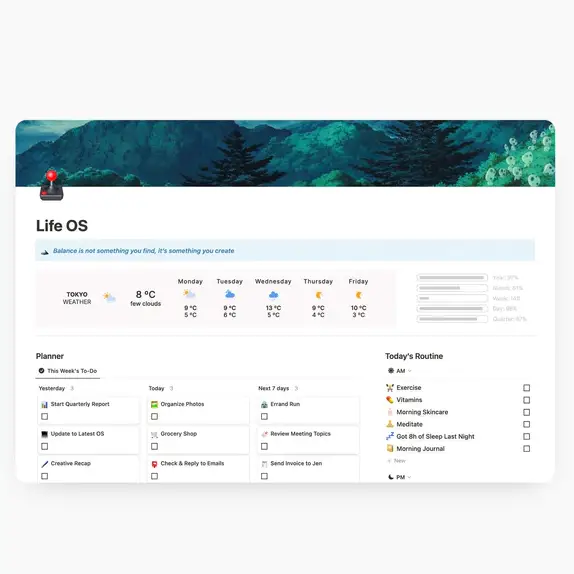 Of course, templates are useful not only in personal life but also in many other areas. Among them are, for example, the following:
Education and studies
Marketing and Sales
Writing literature and texts
Design
Startups
How to create your own Notion template?
Basically, any page in Notion can be a template. The only requirement is that it must be publicly available. If you only need a reusable template for yourself, this is not necessary. Then you can simply duplicate the page in your Notion workspace: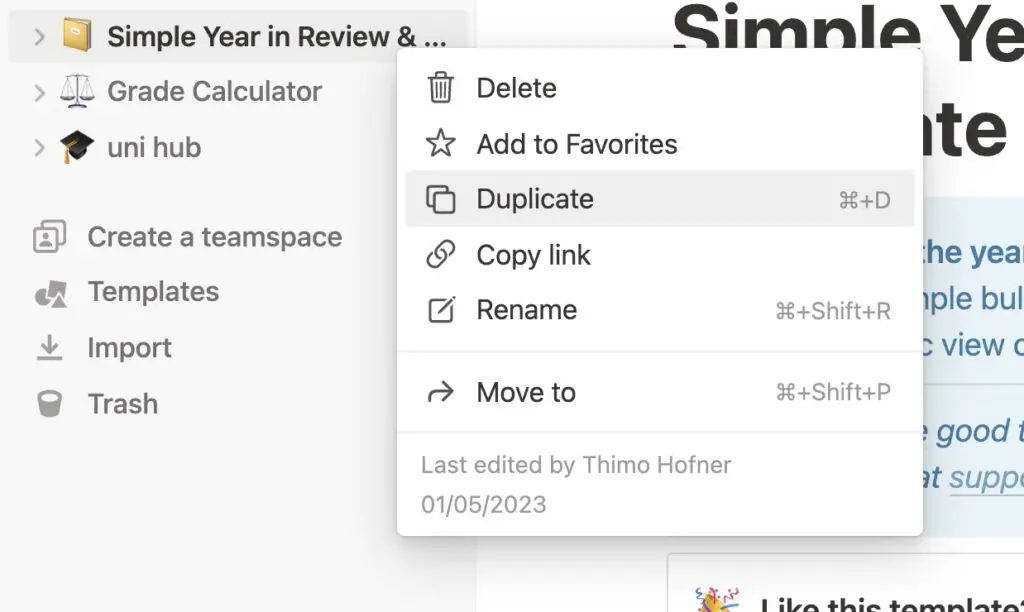 If you want to create a public Notion template for other users, it is important to first create a well-structured page (or page hierarchy). Then others can duplicate it and use it themselves.
Especially if you already use Notion for your own purposes, you probably already have a structure that can be helpful for other users in your field.
Let's take a look at the steps to create a good template:
Tips and tricks for creating good Notion templates
What makes good templates? A good template should be useful, clearly understandable and immediately usable.
To achieve this, you should consider the following things:
Make sure your template serves a specific purpose: Generic pages don't work well as templates. It should be for a clear use case. E.g. "timetable", "travel planner", "university setup"
Create a homepage where you link to all important subpages and explain their purpose in simple words.
Work with placeholders: The template should not contain any content from you (unless it is a summary of a topic or similar). Instead, you can work with placeholders to explain to users what each block is for.
Use clear headings to structure your template.
Structure your pages with different formatting and images: Many users expect a certain aesthetic. In another post, you will learn 9 tips on how to make your Notion pages more beautiful.

Once you have created your page to your liking, you can make it accessible to others:
How do you share a Notion template?
Sharing a page in Notion as a template is quite easy. Here is a step-by-step guide:
1. Navigate to the page you want to share as a template

2. Click on "Share" in the upper right corner

3. Activate the "Share to the web" option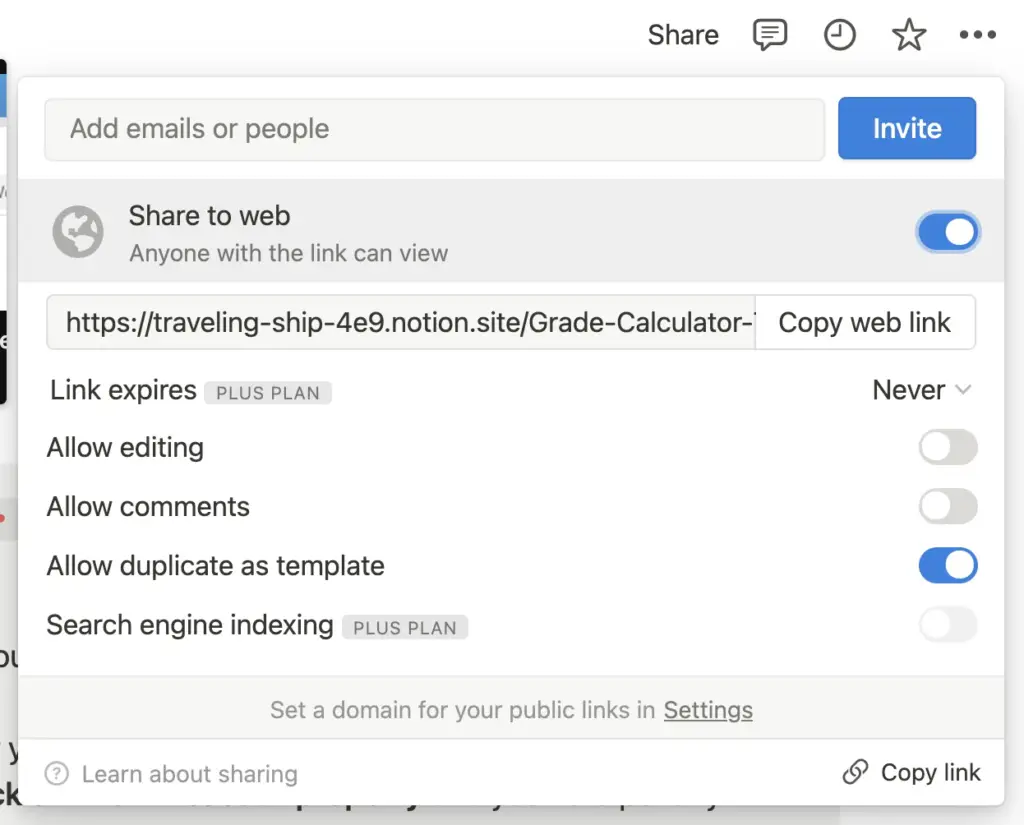 4. Make sure that the option "Allow duplicate as template" is activated
And that's it 🥳 Your page is now publicly accessible via the link and can be duplicated as a template.
However, it will not be easily found by others. Because if you want others to use your template, you have to make sure they find it. One way is to send your link to friends and acquaintances for whom the template can be useful.
Another way is to offer your template on a template site – whether free or paid. Let's see what options you have for this:
Where can you offer your Notion templates?
If you do the work to create a good Notion template, you also want it to be used by many users in the end. Notion templates have become almost a real hype among those who want to earn some extra money on the Internet.
Depending on the amount of work put into the template or how useful it is, the prices vary from $0 to several $100. Yes, this is not a typo. If you do it right, you can earn quite a bit this way.
I've already written a separate article on Notion template pricing if you're interested in this topic.
But of course, this is not a must. Because Notion lives from its active community and especially from the free templates. Now let's see where you can offer your template.
The most popular Notion templates sites
Here is a small list of the most relevant pages where you can list and offer your template: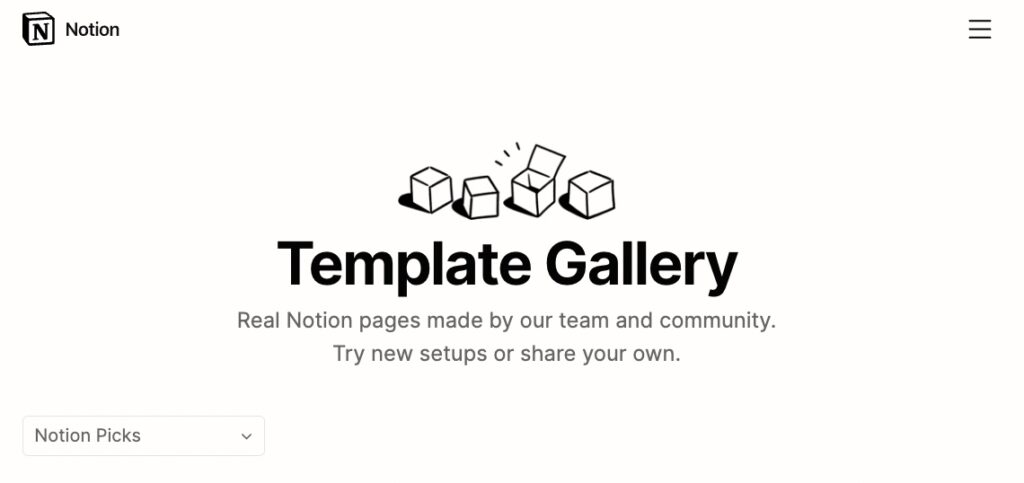 A good place where you can offer your templates is of course Notion itself. Besides the integrated templates in the Notion app itself, there are several 100 templates from the community in the Template Gallery.
And of course, you can also offer your own template there. Important: Not every template can be listed just like that. Because Notion has clear requirements for which templates they allow for their gallery.
If you want to know more about this, Notion has a great description page.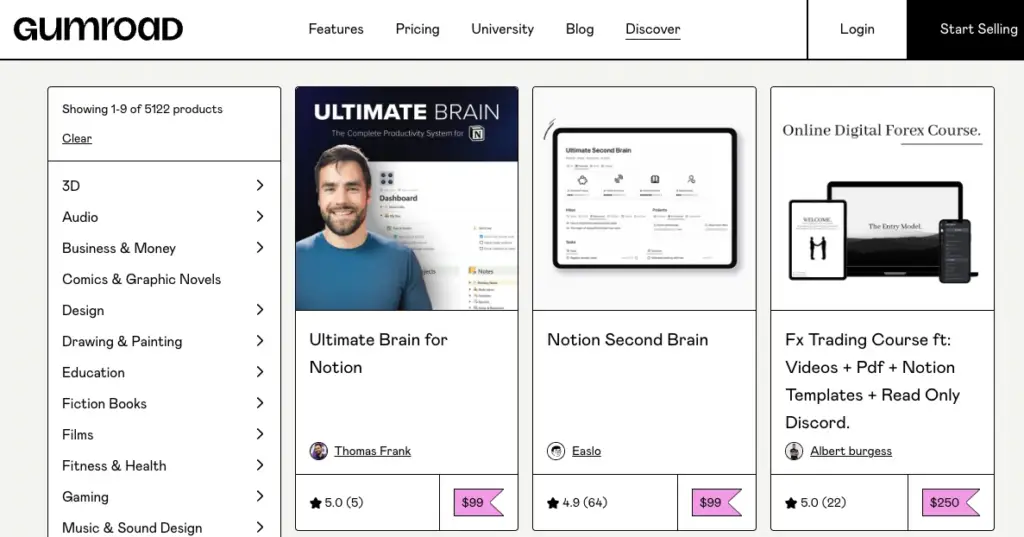 Gumroad is very popular among artists and a serious website for selling digital products, like Notion templates. However, you can also provide your templates for free there.
The good thing is that there is no strict approval process like on Notion. As long as you follow the rules, you can offer all your templates.
All you have to do is create a free account and you're ready to go.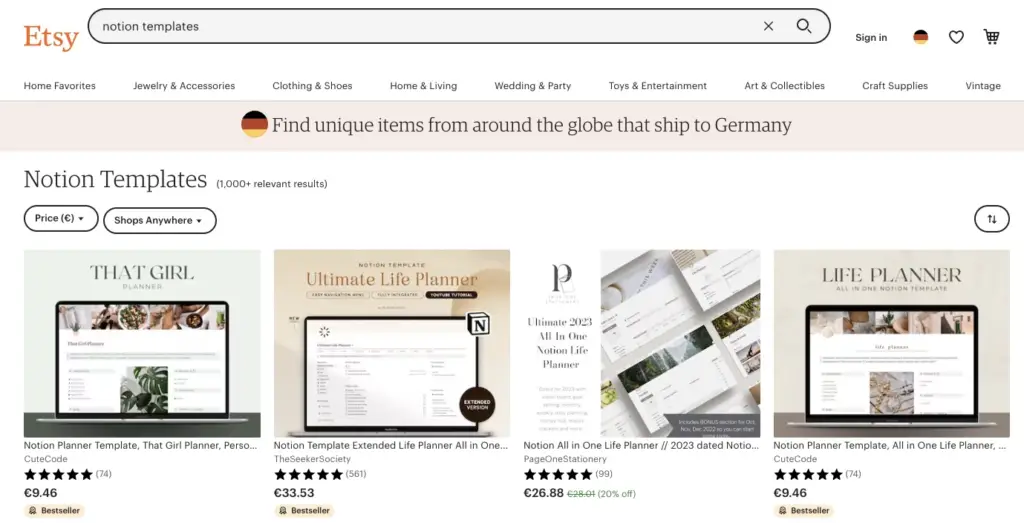 You can also offer your templates in the increasingly popular online store Etsy. Etsy is one of the most popular marketplaces for digital products.
However, you can only offer paid products here. The price can also be only a few cents.
To list your templates there, you need to create a free account and open a store. Etsy will then receive a small commission for each sale.
What should you consider for your template offer?
Meanwhile, there is a large number of available Notion templates. In order for you to have that success with yours, it is important that you do everything right with the actual listing. Because no matter if it is free or paid – you want others to use it.
There are 4 important factors for your offer:
Suitable title: The title must clearly describe what the benefit of your template is. Also, it doesn't hurt to use 1-2 appropriate adjectives. Good example: "Ultimate Study Dashboard".
Good cover image: The title image is the first thing users see when they search for a suitable template. For this, either choose a very good snippet of your template (+ a very short description) or create an image that represents the benefits of the template.

If you don't know how to create it, I highly recommend Canva.
Helpful Screenshots: Once you've gotten a user's attention with the title and cover image, the screenshots will determine whether they want to use the template or keep looking.

Make sure that you show all the important elements of your template with your screenshots. Of course, they should be in a very good resolution
Easy to understand description: Make an effort to explain in the description the usefulness of your template and its individual elements.
Thank you, if you have read this post until here. I hope I could help you with it. Good luck with the creation of your own Notion Templates ⚡️
Study smart, not hard 🎓