Notion is an extremely popular freemium tool that lets you create notes, manage to-dos, or even run entire businesses. In this post, I'll show you what you can do in the free version, what the limitations are, and whether the free plan is enough for you.
Notion can be used completely free of charge. The free plan (previously Personal) includes all basic features. Students and teachers can even use the Notion Plus for personal use for free.
Of course, there are a few more details to it. Because the free plan also has its limitations. In this post, you'll learn everything that you need to know. Let's go!

Can I use Notion for free?
Notion has a tiered payment model. There are 4 levels: Free (formerly Personal), Plus (until recently "Team"), Business and Enterprise. The Free plan is (and will always be) completely free. It is intended primarily for personal use.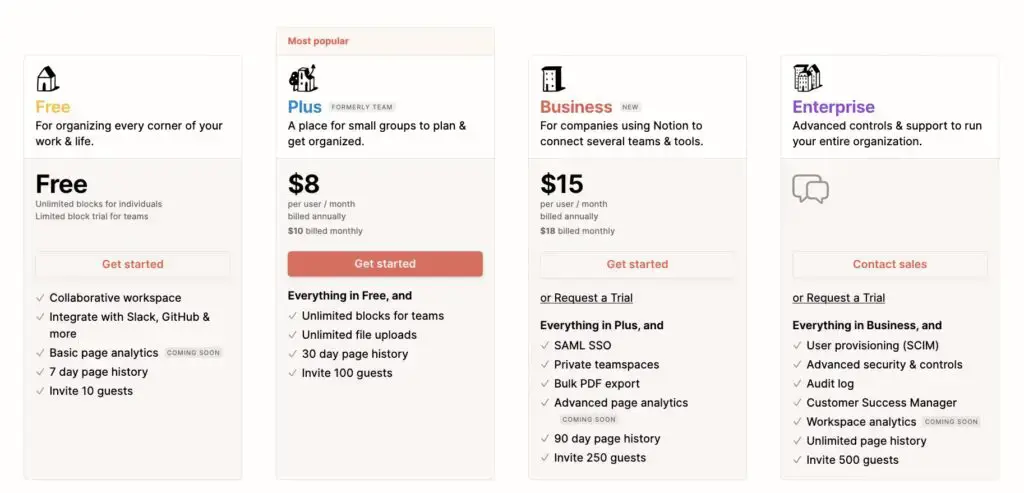 What features are included in the Free Plan?
Basically, the Free Plan offers you all the functions you need for personal use without any restrictions:
You can create pages and content without any limits (there are no elements that are only available in a paid version)
You can share your pages with others
You can use Notion on as many devices as you want
You have unlimited storage space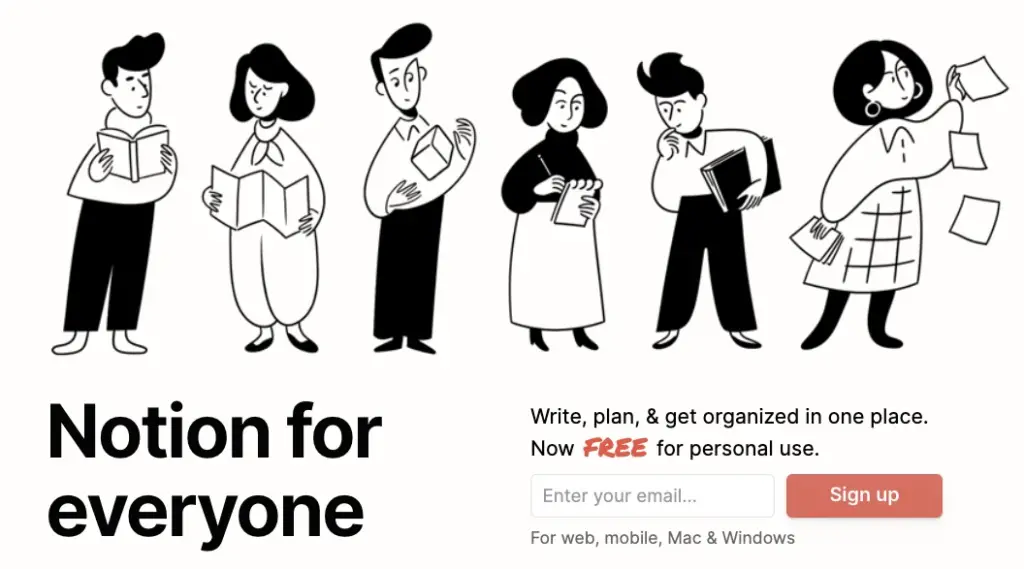 So unlike other tools with a free version, Notion's Free Plan is not stripped down in any way. That's also why I've been using it myself for a long time without upgrading it.
But of course, there has to be some differentiation from the other plans. Thus, the Personal Plan also has its limitations.
What are the limitations of the Free Plan?
Unlike e.g. the Plus Plan (formerly Team), as a free Notion user you have only one workspace and not several. If you really only use Notion alone, this is not really necessary.
Info: If you want to use Notion as a team, you can test the Free Plan for free. The test phase is not limited in time, but has a limit of 1000 blocks, as soon as several members act in one workspace. Thus, you can also create different teamspaces and groups. These are then only limited.
In addition, you can add up to 10 guests to your workspace in the Free Plan. Guests can also edit pages but do not have the same permissions and possibilities as members.
More information about the difference between guests and members can be found in this post: Guests vs. Members.
There is another limit for uploading files. As a free user you can only upload files with a maximum size of 5 MB.
In addition, there is only a page history of 7 days in the Free Plan.
The paid plans
You only have to pay for Notion if you want to use it professionally as a team. Many companies already do this for a wide variety of use cases. Nevertheless, Notion is of course not the solution for all problems.
So in another post, I highlighted the pros and cons of Notion for teams.
The paid plans of Notion are divided into 3 levels:
Plus Plan
In addition to the free version, there is also the Plus Plan for personal use. This plan can also be used by teams. It costs $8 per month for annual payment and $10 per month for monthly payment. The Plus Plan combines the Personal Pro and the Team Plan, which were available in Notion until recently.
The Plus Plan differs from the free version in 3 ways:
There is no limit on file size for uploads (not just 5 MB).
You can invite a total of 100 guests (not just 10)
There is a 30-day page history
If you are interested in more information about Notion for Teams, click: Notion for Teams
Business Plan
The Business Plan is designed for companies that want to unite multiple cross-functional teams in Notion.
Here, a license costs $15 for each user per month if paid annually and $18 if paid monthly.
It offers even more collaboration features as well as the ability to create private teamspaces. You also have a 90-day site history and the ability to invite up to 250 guests.
There is a free trial period for the Business Plan. However, you need to contact Notion's sales team for this.
Enterprise
The Enterprise plan is intended for large companies with different teams and workspaces. The price is determined individually by the Notion sales team. Well known companies like Pixar or Loom use Notion for their processes.
Here, too, there is a free trial period.
Is the free version of Notion enough?
For the vast majority of users who use Notion primarily for personal projects, the free version is completely sufficient. Especially if you are a student, freelancer or (small) business owner, the few limits of the Free Plan will not really prevent you from working.
Notion themselves claim on their website: "Notion is free for personal use". Only rarely do the limits on guests and file sizes really restrict you.
If this is the case for you, it is certainly worth subscribing to the Plus Plan for $8 per month. There is an exception for students and teachers. More about this in the next point.
Plus Plan: Advantages for students and educators
Especially for students, Notion is an extremely helpful tool. You can create, organize and link your notes ideally. To support students and teachers, they can get the Plus Plan from Notion for free. I will show you how to do that in the next point.
You can also find more information here: Notion for Education


How does the registration for students and teachers work?
No matter if you already use Notion for free, are currently paying for it or don't have an account yet, if you have a valid email address of your university or school, you can use the Personal Pro Plan without additional cost.
To do so, follow these steps:
Make sure that you are registered in Notion with your university address. If this is not the case, you can easily change your email under "Settings & Members" > "My Account".
If you have the correct email, go to "Settings & Members" and select "Upgrade". (If you are already using Plus, you have to click on "Plans")
You will get to the overview of the different plans. Scroll down a bit until you see the button "Get free Educational plan" and click on it.

If your university is recognized by Notion, your account will be upgraded
What happens if my university is not recognized?
Unfortunately, Notion does not accept all universities and colleges at this time. If you get an error message when upgrading, you should check again soon if everything is correct with your email.
If this is the case, you can contact the Notion support directly. They can help you. Either click on the "?" in the bottom right corner of Notion or send a mail to: team@makenotion.com.
Will Notion always be free of charge?
Notion says that it will always be free to use. Currently, there is no reason why this should change. For everyone, like me, who uses Notion for studies and own projects, this is great news 🥳
Notion's decision also makes sense from a business perspective. Users who use Notion for free and come to love the tool will also use it when they start a business themselves or will recommend it to their employer.
Study smart, not hard