Digital note-taking programs are becoming more and more popular, especially among students. Keeping track of important information for later is essential, and nowadays it doesn't just work via a simple notepad.
Notion has been a solid program for many years, but it is gradually getting competition from others, including RemNote. But what is the difference between these two yet very complex programs?
First, for a quick answer:
Notion is an all-in-one productivity app that offers many features, while RemNote focuses on note-taking and learning through spaced repetition. Notion also has organizing features that you can't find in RemNote like ToDo lists, calendars, and databases.
Of course, there are many more details and differences. In this post, you'll learn everything you need to know about it including a decision guide if you don't know which tool to use yet. Let's go!

Let's take a look at the tools first:
RemNote: The comprehensive learning and knowledge management tool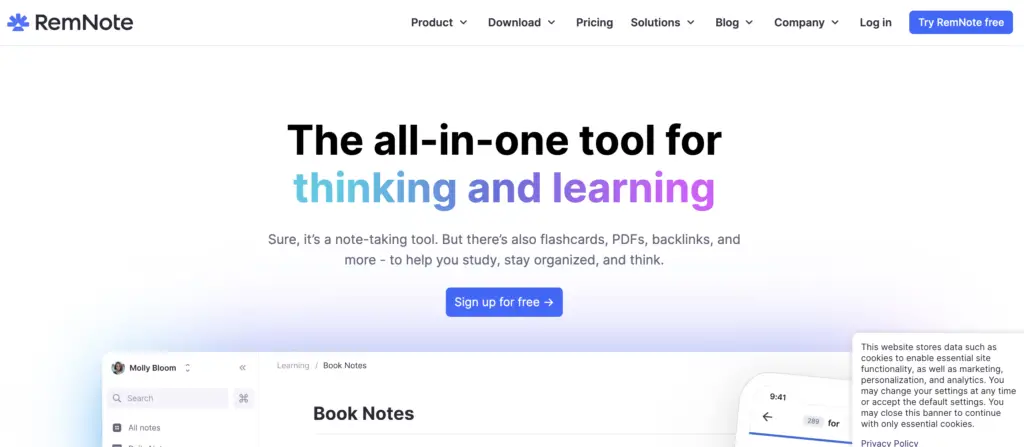 What is RemNote?
RemNote has been around since 2020 and its features combine several other programs, such as Google Docs and Anki. It relies primarily on the constant repetition of written notes in the form of flashcards that users can create themselves. This helps to rehearse what has been learned for possible tests and keep it better in mind.
RemNote's functions and features
Structurally, RemNote is set up like many other note-taking programs. It is possible to create multiple pages and sub-pages and record texts and bullet points in them. It is also possible to create links between individual pages to quickly jump from one point to another.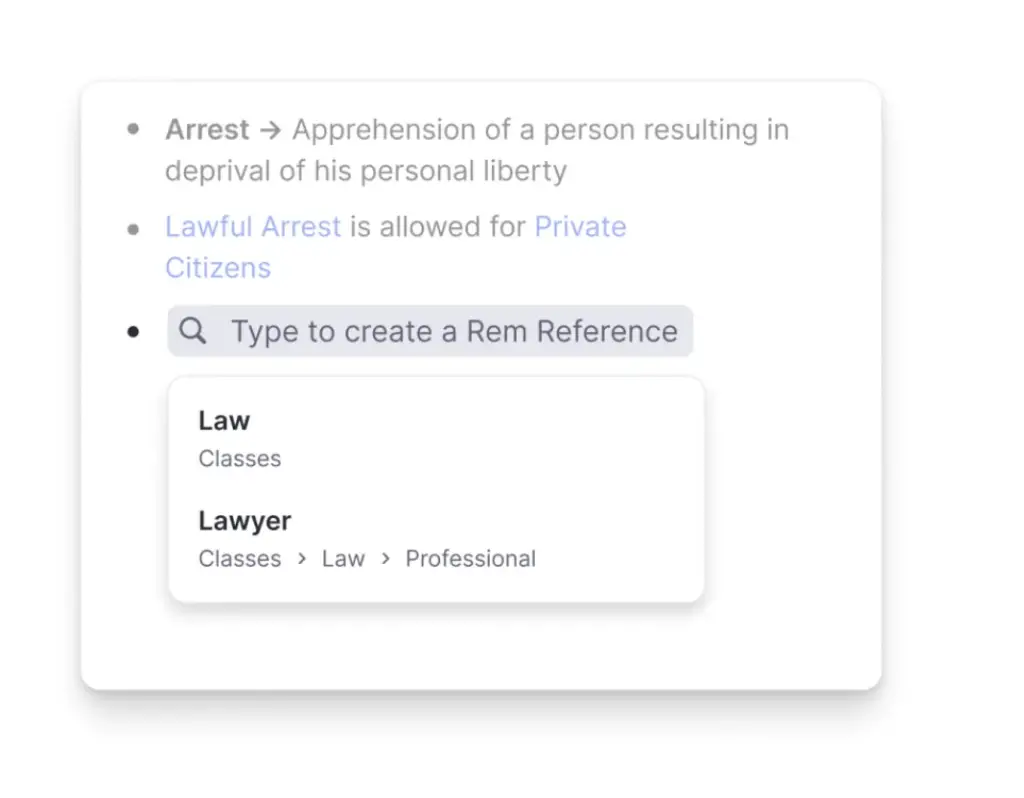 However, the flashcard feature is the most important point of RemNote and should help to repeat information and thus learn better. This is also called "active recall" and "space repitition" and has been scientifically proven to be one of the best learning methods.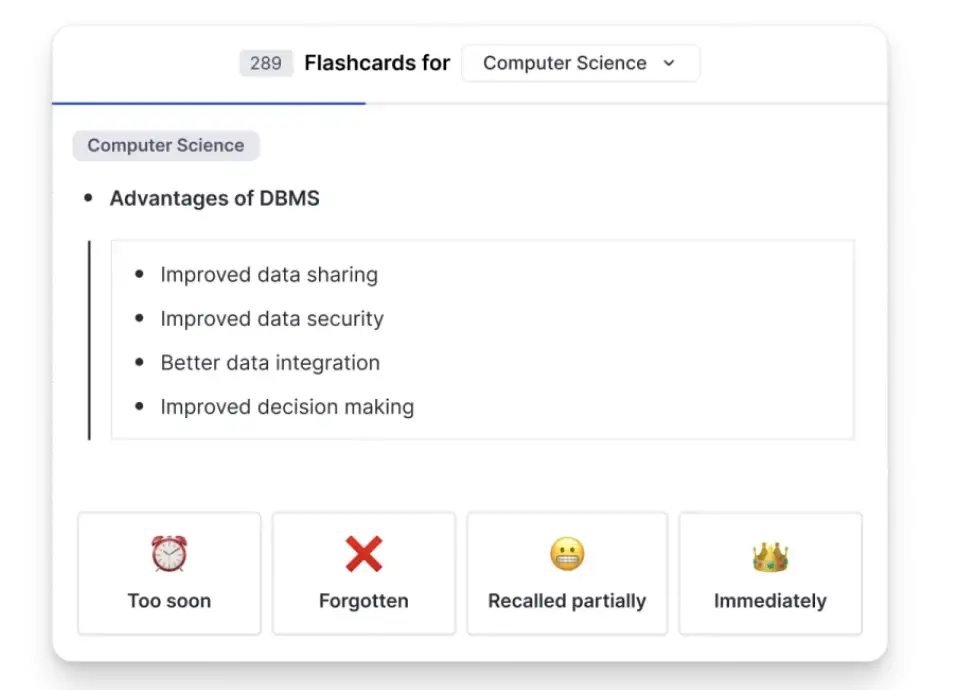 The advantages and disadvantages of RemNote
The pricing of RemNote
RemNote's free plan already offers many and good enough features to be able to create notes and flashcards with it. However, things like PDF annotations or collaboration with others are limited. In the Pro plan ($8 per month), there are infinite features to use RemNote in teams. Also, some features, like a graph view and images on flashcards, are only included in the Pro plan.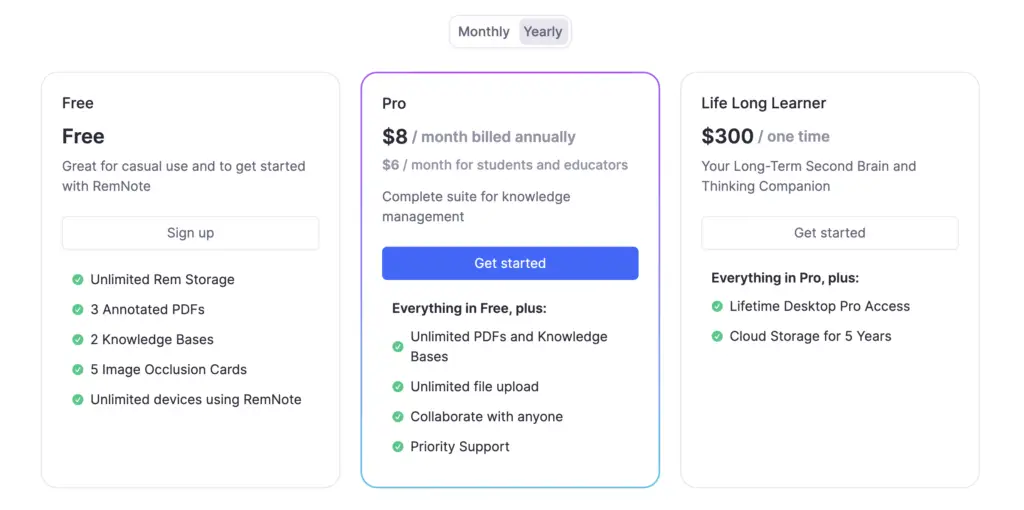 Notion: The ultimate all-in-one tool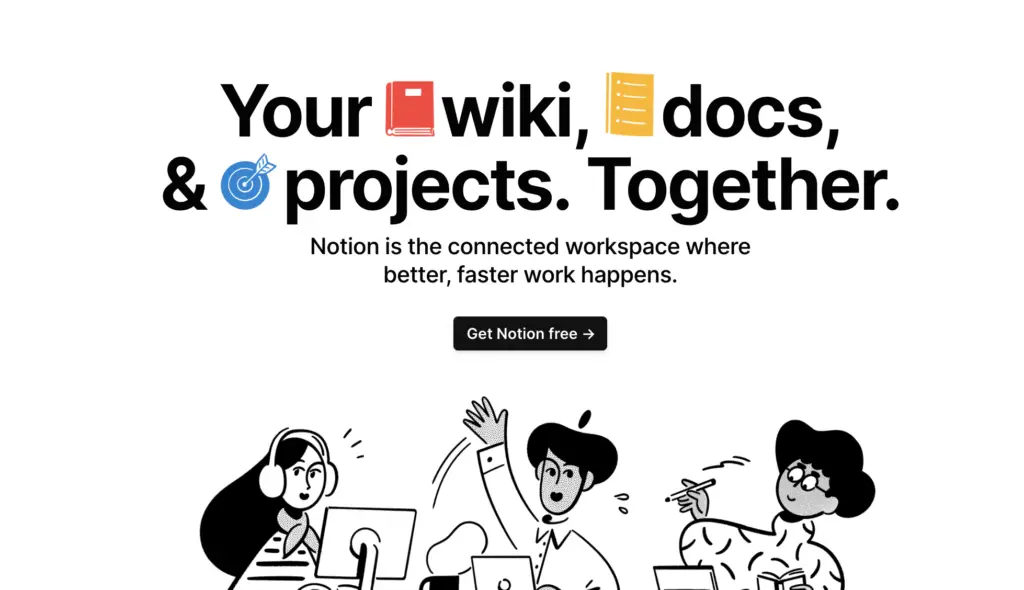 What is Notion?
Notion is a note program that has been on the market since 2016. It is available for all common systems and can be synchronized without any problems. It relies on various blocks and page structures that you can use to organize your notes and databases.
I will explain how this works in another article: Organize pages in Notion
Notion's functions and features
One of Notion's best features is the databases. They let you organize even large projects and amounts of data and display them in different ways. This includes tables, calendars, galleries or timelines.
But Notion can also be used for simple notes and offers an infinite number of text blocks, images and lists. In addition, many other sites and programs can be integrated into Notion, including Google Drive, Dropbox and many other partners of Notion.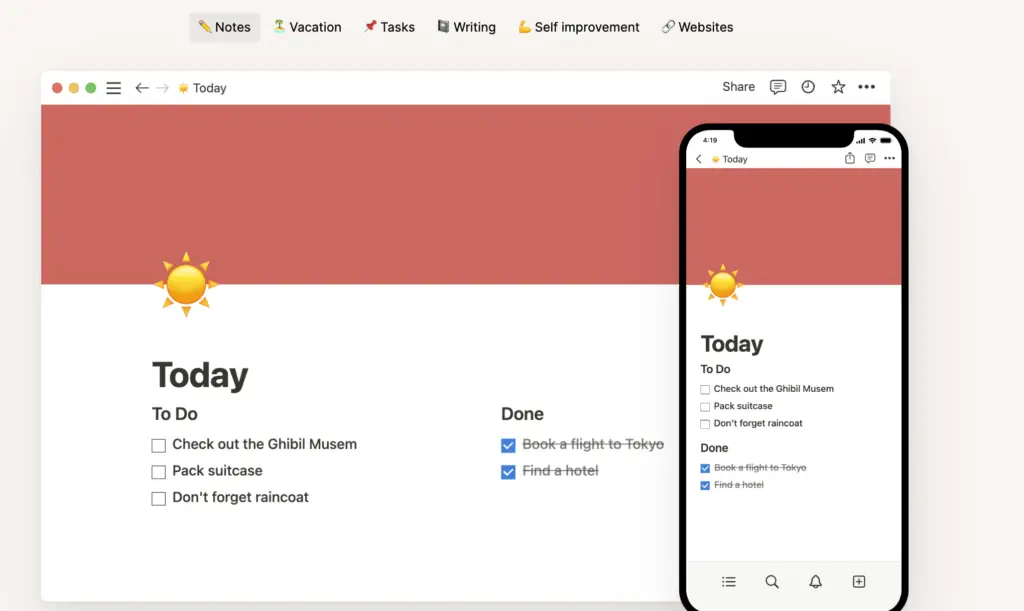 The advantages and disadvantages of Notion
The pricing of Notion
Notion has four pricing tiers. The first category is the Free plan, which includes just about all the important features. Notion doesn't hide anything behind a paywall here and can be used for free without any problems.
The Plus plan ($8 per month with annual billing) and the Business plan ($15 per month with annual billing) are, as the names suggest, primarily intended for collaboration with other users.
They each offer space for 100 and 250 guests, respectively, unlimited file uploads, and unlimited blocks when two or more people are on a Notion page. Click here for more info about the difference between the Plus and Business Plan.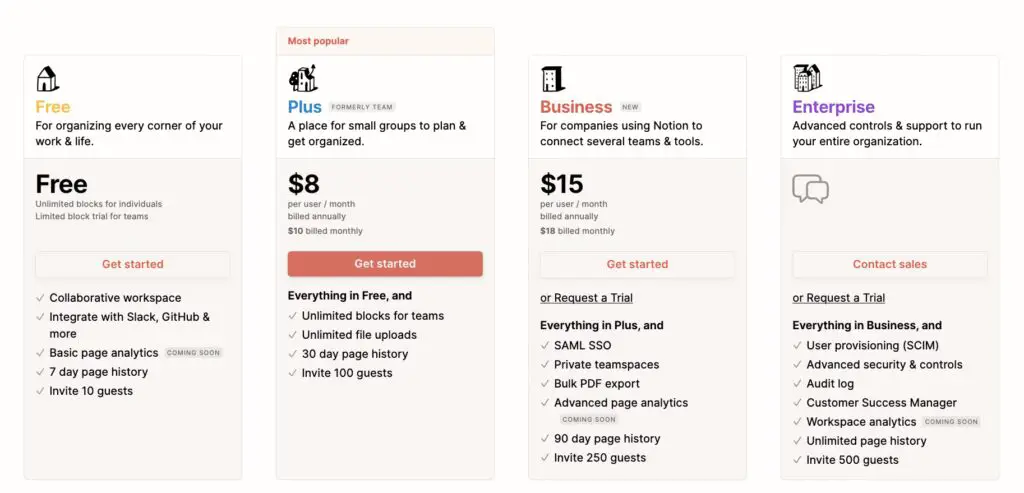 RemNote vs. Notion: The comparison
The functions and features of both tools
RemNote
RemNote focuses primarily on repetitive learning, helping you do something with your notes as well, rather than just writing them down. With a daily or weekly review, you'll keep the material in your head.
Plus, RemNote offers a compact solution that is otherwise only possible with Anki and another program. If you create your own notes and flashcards, you'll remember things better instead of just downloading them from the Internet.
So RemNote relies on information retrieval and repetition of what you write down digitally.
Notion
Notion, again, specializes in just keeping notes and offers more options here, including large databases with different views. It is suitable for overviews of notes that go far beyond pure learning.
In addition, Notion is also suitable for managing teams and companies, can be used from simple to complex tasks. It also offers good integration with other tools, allowing it to be incorporated into the workflow.
The advantages and disadvantages in comparison
Overview and design
Both programs can convince with a minimalistic look. They each offer a light and dark mode and otherwise do not stand out with many colors. Texts and bullet points have a similar structure and can be created clearly and linked to each other.
However, Notion offers more design options here, with colored texts, markers and images.
Winner: Notion
Functions as a note-taking tool
For notes, Notion is more convincing. RemNote also offers similar features, but some functions are not yet mature. For example, it lacks table views, which are essential for learning for some.
In addition, Notion offers room for more complex notes and larger texts that can be aesthetically incorporated into the notes.
Winner: Notion

Functions as a learning tool
As a learning program, RemNote is again more convincing, because it has built-in flashcards. If you create flashcards yourself with notes and repeat them regularly, RemNote fits better into your workflow. Notion can't keep up here and is purely for holding information.
One possibility that exists with Notion are toggle lists. You can enter a question and show the answer only after the list has been expanded. This function can be used to create flashcards in Anki. More about this here: Notion and Anki – How you can use both tools
If you look at both tools individually, the following still applies with regard to the learning functions…
Winner: RemNote
Synchronization
Both programs are now available for desktop and mobile devices, on Windows, Android and Apple. Notes can be synchronized in both tools via a network connection, so you always have all your data together. One advantage of RemNote, however, is that it also works offline, while Notion still doesn't have this feature. (More about the offline mode in Notion)
Winner: RemNote – but only just.

Pricing in comparison
Both tools are free to use to a large extent and thus offer a wide range of features. The free plans on both are designed for individual use, while the paid plans are good for collaborations.
Result: it's a tie.
Now you might be asking yourself: but which of the tools is actually better for me?
Of course, that depends on what you want to use it for…
Which tool is better for you?
Example use cases for RemNote and Notion
RemNote is better if you want to study for school or university, for example. Create your own notes here, from which you then make flashcards. This works well for repeated information requests, for example for learning vocabulary. In addition, you always have the original notes available, which you can adapt as you wish.
Notion is best used for complex notes and databases, but it also offers simple solutions. You can use Notion in creative ways, including to-do lists, habit trackers, personal goals, academic notes, or project work. The only downside is that you can't retrieve it automatically; everything exists passively.
It's your choice
Here you have to decide for yourself which of the two programs works better for you. Both can be tested for free, you don't have to pay directly to use the most important features. This gives you a first overview and you can choose which program works better for your project. Of course, you can also use both and integrate them into your workflow.

Summary of the advantages and disadvantages of RemNote and Notion
| | | |
| --- | --- | --- |
| | Notion | RemNote |
| Advantages | can be used for simple notes to complex databases | Combines index cards and notes |
| | many design possibilities | Made for learning ("active recall" and "spaced repitition") |
| | Usable in teams and with other tools | |
| | | |
| Disadvantages | steep learning curve | no integrations with other tools |
| | no functions for learning | few design options |
Recommendation for the best tool for specific requirements
RemNote: for repetitive note taking and creating flashcards – a combination of detailed notes and Anki.
Notion: for simple trackers, lists or complex databases that you can use passively but are not necessarily good for repetitive learning.
I hope I could help you with your decision between the tools. Thanks for reading the post to this point!
Study smart, not hard 🎓