The variety of note-taking apps can become overwhelming. Many of the available tools offer similar features and you, as a user, often have a hard time choosing. Notion and GoodNotes are two of these apps that are mentioned again and again.
Yet they actually appeal to completely different target groups. So, what is the difference between Notion and GoodNotes and in which situations is it better to use which tool? I'll show you in this post.
First, the quick answer:
GoodNotes, as a digital notepad, is ideal for using with the Apple Pencil and editing PDFs. Notion is based on a block system and is ideal for linking individual notes, creating databases, and team collaboration.
Of course, there are more distinctions and details. I'll show you these in the course of the post. Let's go
Who does the comparison matter to, and why?
For a good workflow and your own productivity, it is incredibly important to be familiar with your own programs. There's no point in switching back and forth between different apps just to maybe find that one little feature you're looking for after all.
For those who use note-taking programs in the case of school, university, or in work environment, it's important to be organized and always have the right tools at hand.
That's why choosing a note-taking app is so important, because it will be with you for many months or years. If you're always jumping from one to another, it interrupts your work and can lead to data loss.
Comparing different programs is incredibly important and you should also take enough time to test as many as possible and find the right one for yourself.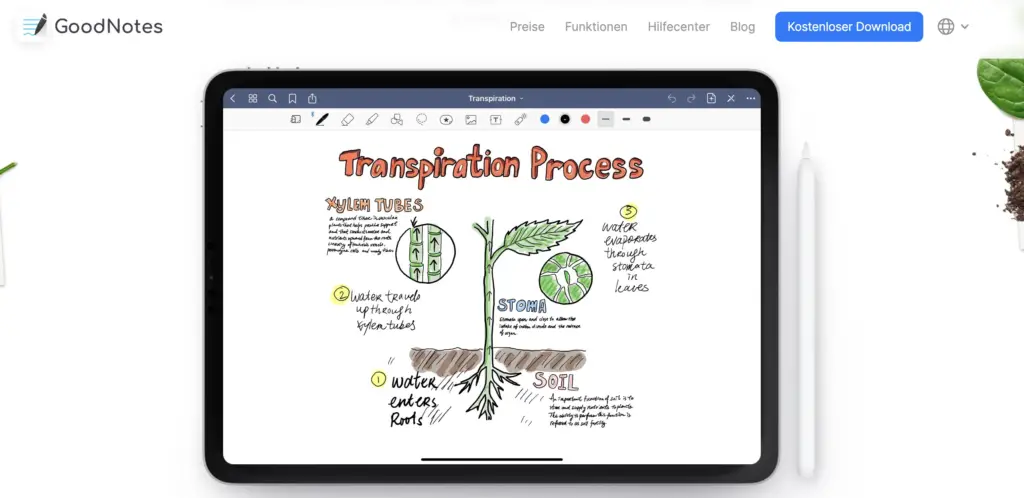 GoodNotes is a program designed specifically for Apple users. This point is certainly already decisive for some whether they can or want to use this app at all.
The reason is that GoodNotes is specifically specialized for writing on the iPad. The app is also available for Mac and iPhone, but the iPad is where GoodNotes really comes into its own.

GoodNotes acts as a digital notepad for handwritten notes. It emulates the feel of a normal conventional notepad, but without real paper. If you like to write your notes by hand and want to embellish them, GoodNotes is worth a look.
In addition, GoodNotes is ideal for editing PDFs that are used in an academic setting. The workflow with GoodNotes is fast and precise if you are used to writing by hand.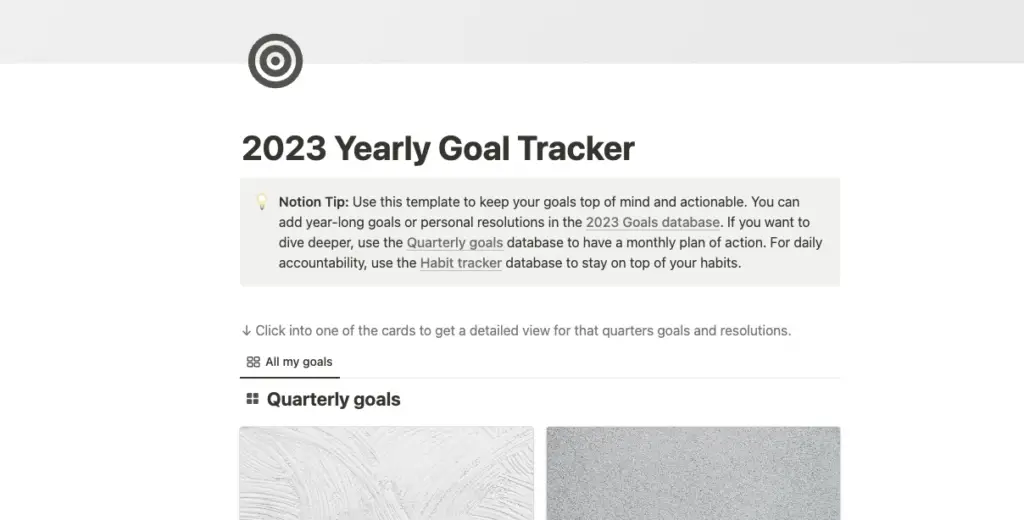 Notion is a purely digital program for note-taking, organization, productivity, and more. The tool does not yet support input with tablet pens, like the Apple Pencil. Therefore, the operation is designed for a keyboard and mouse.
It is available for all common operating systems, both desktop and smartphone. Notion offers structured handling of notes and databases and is very flexible in use.
In addition, links can be made here within Notion itself, but also to other platforms. Notion is especially suitable for large overviews and people who are faster at the keyboard. In addition, it is also available for Android and Windows.
GoodNotes vs. Notion – A detailed comparison
Functionality
Good Notes
There is not a great selection of tools in GoodNotes. You can create multiple notebooks and fill them with your written notes. This works best with an iPad and an Apple Pencil. Here, the program simulates the feel of a traditional notepad – just without the paper.

Several digital pens are available for writing, from simple strokes to highlighters and selection tools. Text, tables and diagrams can also be inserted, but only in the rudimentary form here. The focus is on input with a pen.
One of the best features of Good Notes is the lasso. With the help of the lasso, which can be found at the top of the toolbar, it is possible to cut and move areas freehand. Additionally, the lasso offers options such as capturing only handwriting or only images.
There are also various templates according to which a notebook can be created. First and foremost, this includes the makeup of the digital paper. This can be selected according to your preference.
Notion
Notion, on the other hand, relies on a block system. Everything is entered via keystrokes, nothing can be handwritten. The blocks are nevertheless versatile and offer many application possibilities. First of all, there are normal text blocks in which you can simply write.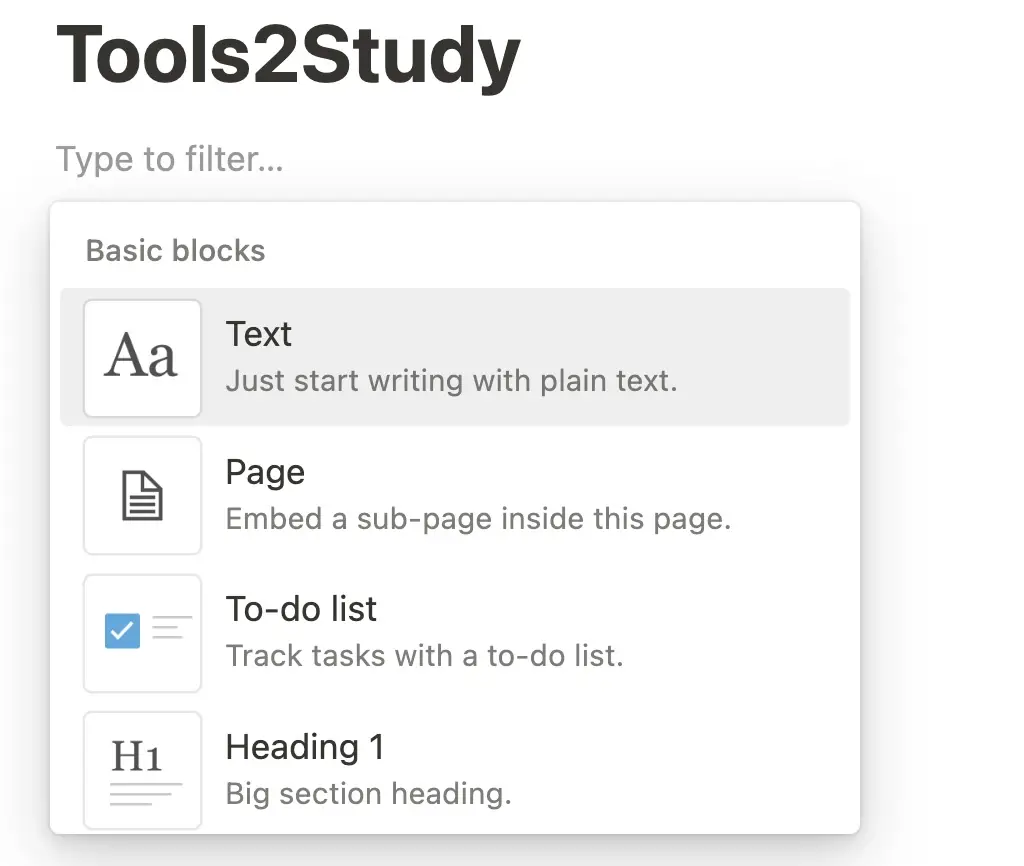 Lists can also be created easily. But Notion's blocks go far beyond that, offering among other things the integration of images, calendars, tables and entire databases. These are the heart of Notion and can organize large amounts of data.
Working with PDFs
There is also a big difference when working with PDFs. These can be imported into Notion, but not edited. GoodNotes, on the other hand, is designed to work with PDFs and even write on them.
If you have textbooks or worksheets for school or university, for example, you can edit them directly in GoodNotes. This is a great advantage for the Apple program.
Share notes and collaborate
Both programs also offer functions to share and edit one's own notes with others. Here, however, Notion is again ahead, as it can be used specifically for Can be used for teams, even in the area of corporate structures.
In GoodNotes, note sheets can be shared and edited at the same time, but the functionalities are still limited to the handwritten input of the individual participants. In a school setting, this can still be quite sufficient.
User friendliness
In terms of usability, GoodNotes can convince. If you have an iPad and a stylus, you will quickly and easily find your way around this program. It works like a normal notepad, there are no functions that are not self-explanatory.
Writing is easy and PDF editing is extremely sophisticated. In addition, the notes can be viewed on the iPhone and Mac and edited as well. The only drawback is the exclusion of Android and Windows, which may cause complications. (In the future, however, this will probably no longer be a problem)
Notion, on the other hand, is a very powerful tool but also takes time to learn. Text and image blocks are easily understood, and even creating new pages and subpages is no problem.
Still, Notion offers a lot that only becomes obvious with prolonged use. Linking and databases can be used effectively, but must be set up first.
The learning curve with Notion is much steeper, but once the basic features are known, it offers much more than GoodNotes ever can. It can also be linked to any popular platform, allowing for a better workflow.
Cost
Price-wise, there are big differences between the two apps.
GoodNotes is free, but it only lets you create three notebooks. It also lacks some essential features, including handwriting recognition and importing documents via email. I'm sure most users won't get far with three notebooks either. The good thing is that there is only one way to purchase GoodNotes.
A one-time purchase currently costs $8.99. Once these are paid, you have GoodNotes forever and without further costs.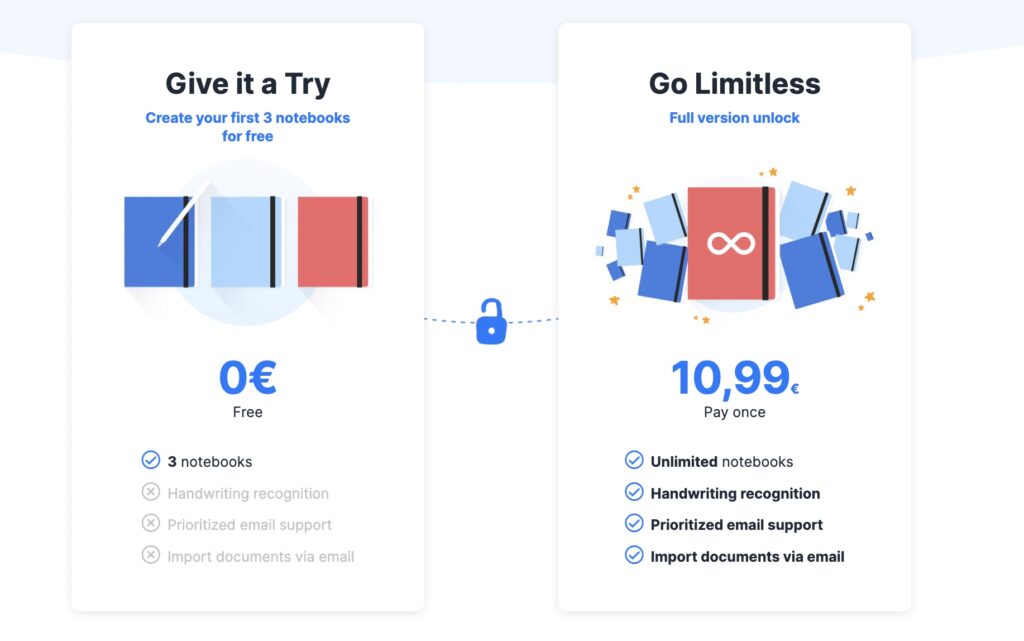 Notion, on the other hand, is already complete in its free form (Free Plan) and actually offers all the features that are available in the paid models. Notion itself says that the tool should remain free forever for personal use.
The subscriptions are intended for people who want to use Notion in teams, especially in terms of corporate structures. Here, there is the Plus Plan ($8 per month) and the Business Plan ($15 per month). For private use, however, the Free Plan is perfectly sufficient.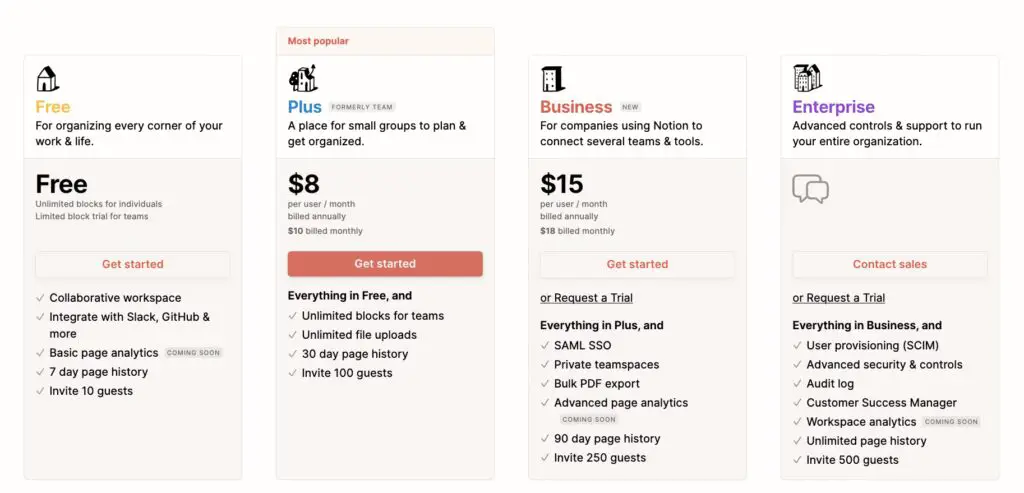 Click here if you want to learn more about the differences between the Plus and Business Plan from Notion want to know.
GoodNotes vs. Notion – When is which tool the better choice?
The choice between GoodNotes and Notion is purely personal taste. For those who like to take handwritten notes but don't always want to waste endless notebooks, GoodNotes is the right choice. It's environmentally friendly and easy to carry around.
For iPad users, this app is excellent and is a breeze to use. If you often handle PDFs and use them in an academic setting, you'll get your money's worth with GoodNotes. In addition, it has been scientifically proven that we remember handwritten notes better.
Notion, on the other hand, is designed to work with the keyboard. So, if you prefer typing and typing faster, you should rather take a look at Notion. Moreover, it is the only choice of the two tools for Android and Windows users (as of Spring 2023).
Notion is for those who want to go beyond normal note-taking. The learning curve is steep, but once you master Notion, it's an incredibly versatile tool.
Notes can be organized and classified with precision. In addition, Notion's databases are arguably one of its best features.
Notion can also be linked to many other services, including Google Drive, Dropbox, and other websites. For those who use large amounts of data and like order, Notion is the better choice.
If you want to know more about the capabilities of Notion for Teams, you should check out this post: Notion for Teams: the Perfect All-In-One Tool? (Pros & Cons)
Notion AND GoodNotes? Are the tools compatible?
Notion and GoodNotes can indeed be combined, but only in one direction. Since Notion offers the ability to embed other websites, so does GoodNotes.
Share the link for a specific note in GoodNotes and then paste it into Notion. This way you can retrieve that particular note in Notion and get a preview.

Two tools with a different focus
Notion and GoodNotes have been developed for two very different target groups. While GoodNotes focuses on handwritten notes with the iPad, Notion is for complex notes and databases.
Here you have to decide for yourself which program fits better to your own needs. Functionally, there is little overlap, except that you can record your thoughts in both tools. In which way you want to do that is purely up to you.
I hope I was able to help you decide with this post. Both tools are smart in their own way and help you work more productively.
Study smart, not hard 🎓