I'm a big fan of Anki myself. The learning app offers an incredible amount of features, a great community, and on top of that, it's completely free (except for the iOS app). Still, it doesn't hurt to check out other apps and platforms that you might like better or that might be a suitable addition to your own learning process. In this post, I'll be showing you my top 10 picks for the best Anki alternatives.
Jump directly to specific topics with the following overview:
Similar to Anki, Quizlet is also a flashcard app that was originally developed primarily for learning new languages, especially vocabulary. However, Quizlet is now used by learners from all fields.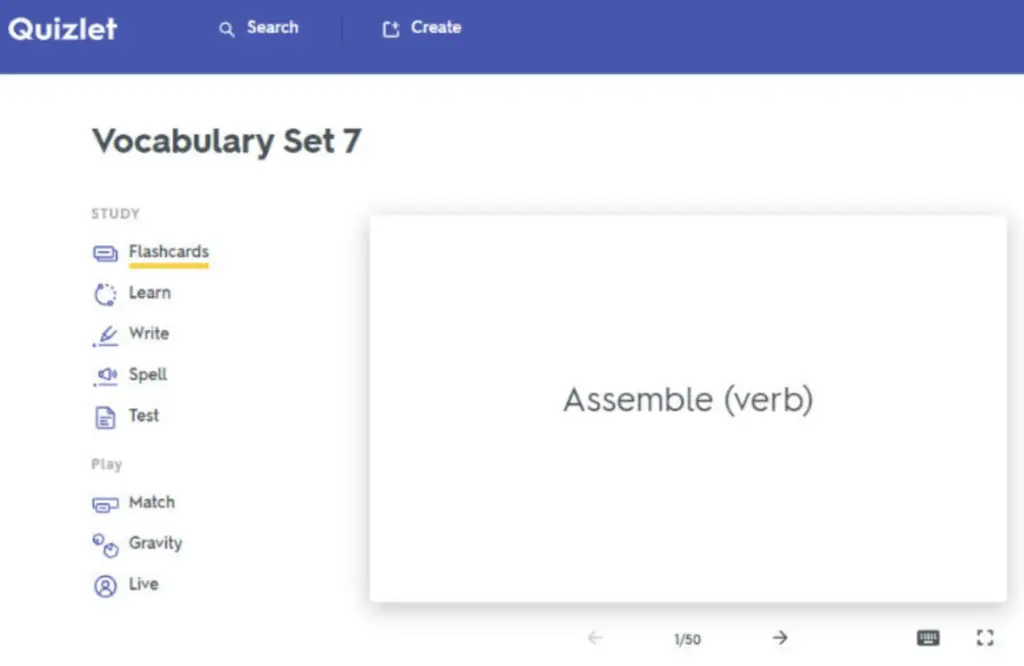 Unlike Anki, Quizlet focuses even more on learning in a playful way. While you can also add new motivating and colorful elements to Anki with gamification add-ons, Quizlet is clearly ahead in this respect. 
Just like Anki, Quizlet also lets you create your own flashcard decks or take advantage of the countless ready-made decks that you can download for free.
Quizlet takes a slightly different approach to mere flashcard functionality. There are 5 different learning modes that add a bit more variety to the learning process: 
Flashcards mode: This is the mode known from Anki. On the front side there is a question and when you want to see the answer, you flip the digital flashcard.
Learn mode: Here you have a multiple-choice selection of the flashcards. The more questions you answer correctly, the more difficult the cards become.
Spell mode: Here you have to type in the answer. This is especially good if you want to practice the correct spelling of words.
Write Mode: Again, you type in the answer. Once you are done with the first round, write mode will start a second round focusing on the questions you missed the first time.
Test mode: This creates a test for you with four different categories: written, matching, multiple-choice, and true or false (you can customize the categories and the number of questions).
Note: While Anki is popular for its Spaced Repetition feature, Quizlet 2020 has discontinued a similar feature. For memorization, Anki might therefore be the better choice.
How much does Quizlet cost?
Quizlet has a free version that includes all of the above learning modes. There is also a premium version with Quizlet Plus, which offers even more features. For example, you can add pictures and audio to the cards only with the paid Quizlet plan. 
Quizlet Plus costs $35,99 per year. There is also a 7-day trial period, during which you can test the premium version for free.
"Learn to speak like the locals – Phrases useful in everyday life. Taught with video clips of real locals." – That's how Memrise describes itself on its own website. So, unlike Anki, it's all about language learning.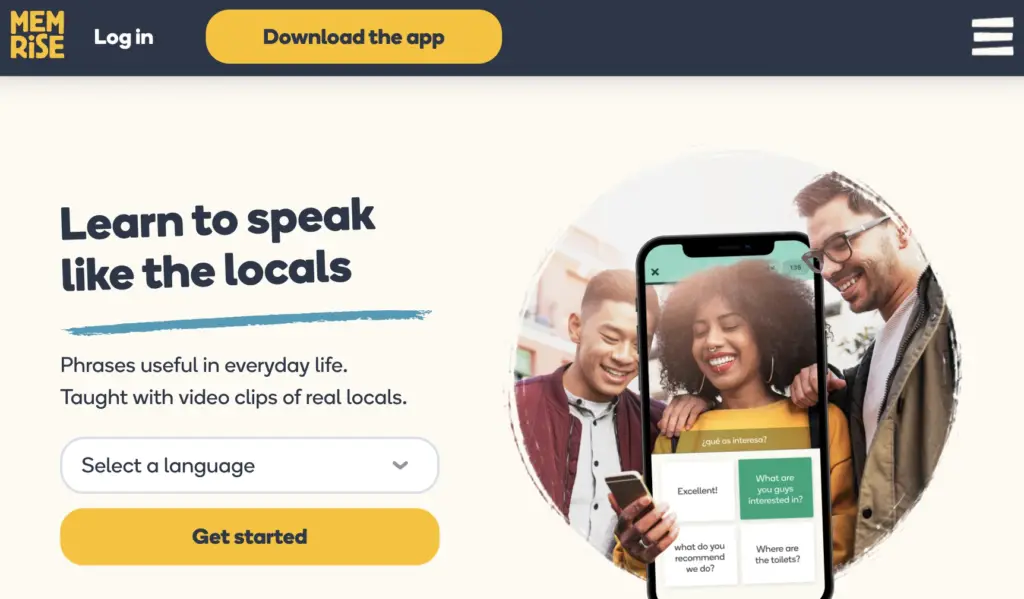 Memrise is a really sophisticated learning platform. By now, there are learning materials for 23 different languages. If you have an account, you can access them via app and web browser from any device. 
Similar to Anki, Memrise relies on spaced repetition – however, not exclusively with flashcards, but with different learning modes, such as quizzes. The core elements of Memrise courses are the videos, which immerse you in real everyday situations with "locals". In this way, you learn truly authentic language from native speakers.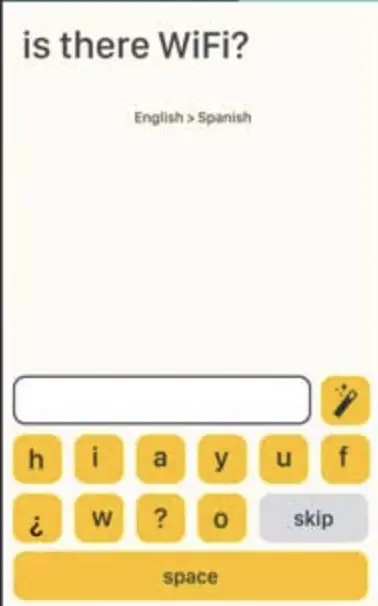 How much does Memrise cost?
The good news is that it doesn't cost anything to create a Memrise account. You can use the app completely free of charge to learn vocabulary, simple phrases or characters of different languages.
Of course, Memrise also offers a Pro plan that comes with many additional and sophisticated features. These include: 
Chatbots that help you learn
Videos of native speakers for selected languages
Personalization options (i.e., the app changes the way it teaches you based on your performance)
Detailed learning statistics. 
Exercises for difficult words and vocabulary you've previously made mistakes with.
Memrise Pro Price
Memrise Pro membership currently costs 
$8.49 per month (monthly subscription) 
or $5.00 per month (annual subscription)
For $119,99 you can use Memrise forever
Memrise as an alternative to Anki?
Memrise is especially suitable as an alternative to Anki if you want to learn a language in a fun and varied way. However, if you prefer to create your own learning materials, I would recommend that you simply use Anki.

RemNote was developed by Anki users who found the "Question ➡️ Answer" format too one-dimensional. Instead of squeezing the required knowledge into "Question ➡️ Answer" blocks, you can use RemNote to present it the way it is structured in your brain.
First of all, RemNote is a program for taking notes. From these notes, you can easily and intuitively generate new flashcards. You can also edit PDFs and web articles with RemNote and link them to your notes.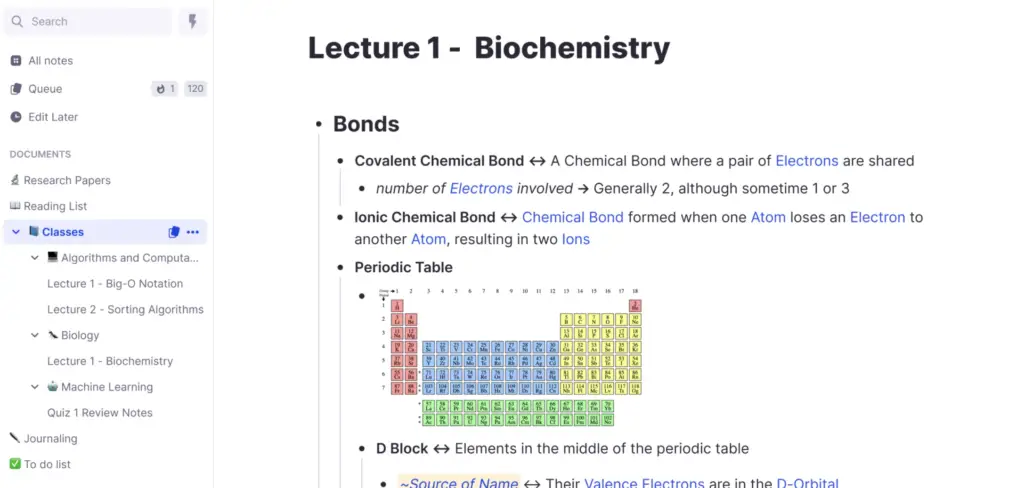 The idea is to connect the individual knowledge modules in a better way.  With the program, you should be able to build up a knowledge base, which should form the basis for long-term learning success. 
RemNote is available as a desktop program or as an app (currently only for Android). With a new investment that the startup recently received, many new features are sure to be added in the near future.
How much does RemNote cost?
Like many of the other learning apps, RemNote has a freemium model. This means that there is both a free and a paid premium version. All basic features are already included in the free version.
You only have to pay for the premium features. Some of them are:
RemNote Price
The premium version is currently available for $6 per month or for a one-time fee of $300. Whereby you can see at the latter once again the long-term approach of RemNote. Because the one-time license costs as much as 50 months.
StudyStack is another flashcard app. It is available free of charge and relies on user-generated content. In addition to classic flashcards, there are also playful modes such as word puzzles or hangman.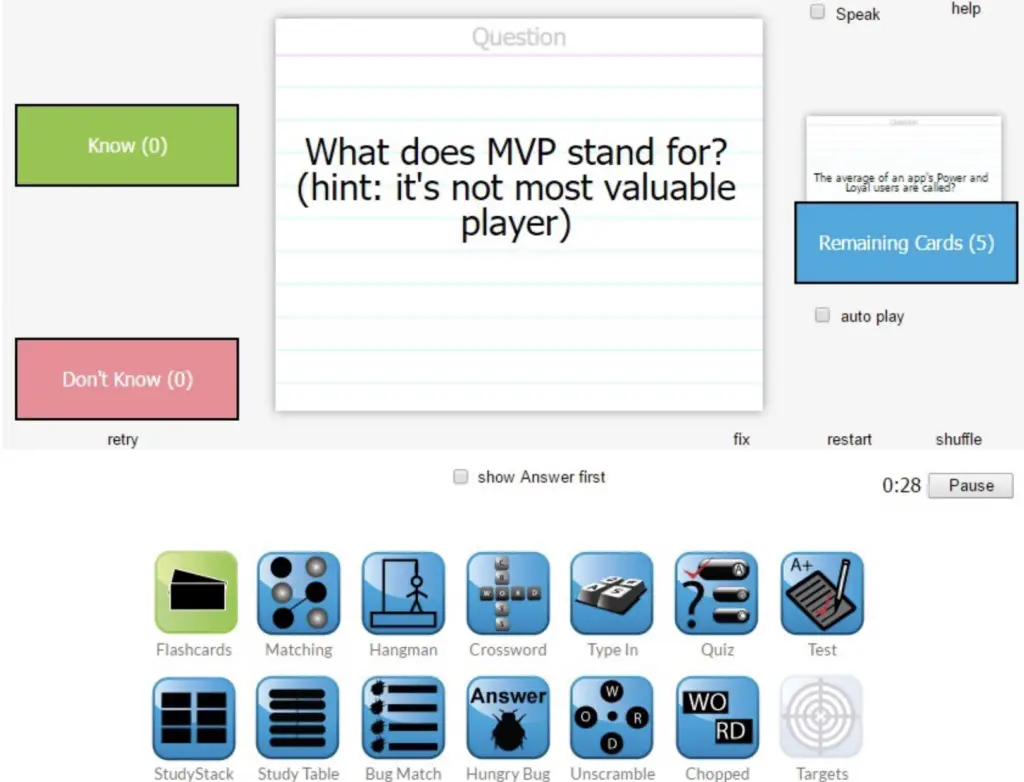 If you want to use StudyStack, you first have to create an account. Then you can create your own card sets or use already existing sets. Unfortunately, the cards may contain advertisements. 
StudyStack also focuses more on playful elements. By its own claims, the app is for "serious fun learning." Thus, the different learning modes also provide different response feedback: sometimes time is measured, then points are counted, and other times there is a simple success message. 
Is there a premium version?
StudyStack also offers a paid version but it is intended for professors, teachers or tutors who want to provide students with their own sets of flashcards.
Mochi is a simple learning app with a focus on spaced repetition. Unlike Anki, Mochi uses the Markdown markup language to create notes and cards quickly and efficiently.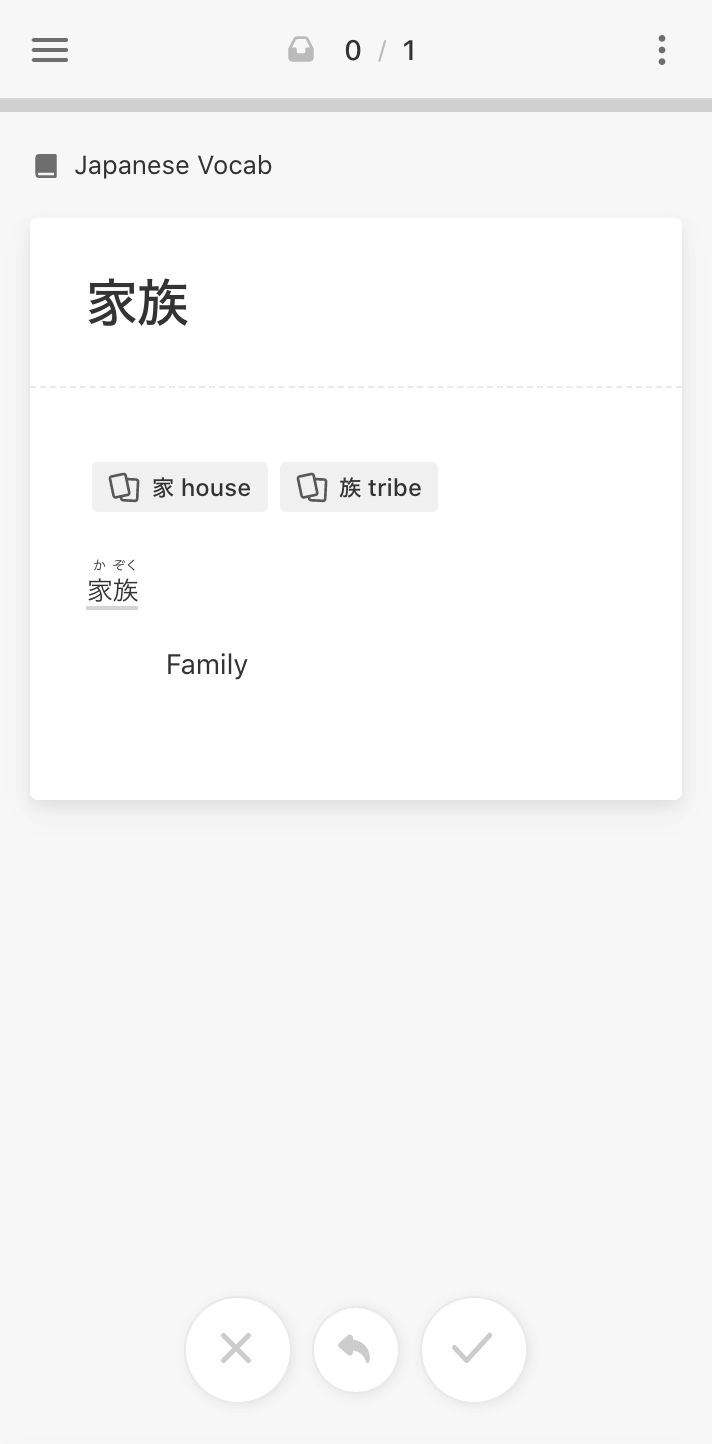 Mochi also gives you the ability to link flashcards to each other, allowing you to build knowledge networks. The program follows the principle "offline first". That means if you don't want to, you don't have to create an account and can use Mochi completely offline on your computer. The data is thus also only stored locally. 
Mochi also proves to be a suitable alternative due to its good compatibility with the popular flashcard app Anki. It's easy to import your Anki decks into Mochi, so you can immediately use all shared Anki decks in Mochi. 
Unlike Anki and other learning apps in this list, Mochi is currently only available for desktop devices (Windows, Mac & Linux).
How much does Mochi cost?
In addition to the free version, there is also a Pro version here. This costs $5 a month and offers some premium features like: 
In-app translations
Integrated dictionaries
A text-to-speech function
A possibility to make cloud backups (max. 10GB)
Synchronization across multiple devices
You can think of Brainscape as Anki but with a company behind it. Meaning it's also a flashcard app with a focus on spaced repetition but with a modern and user-friendly interface.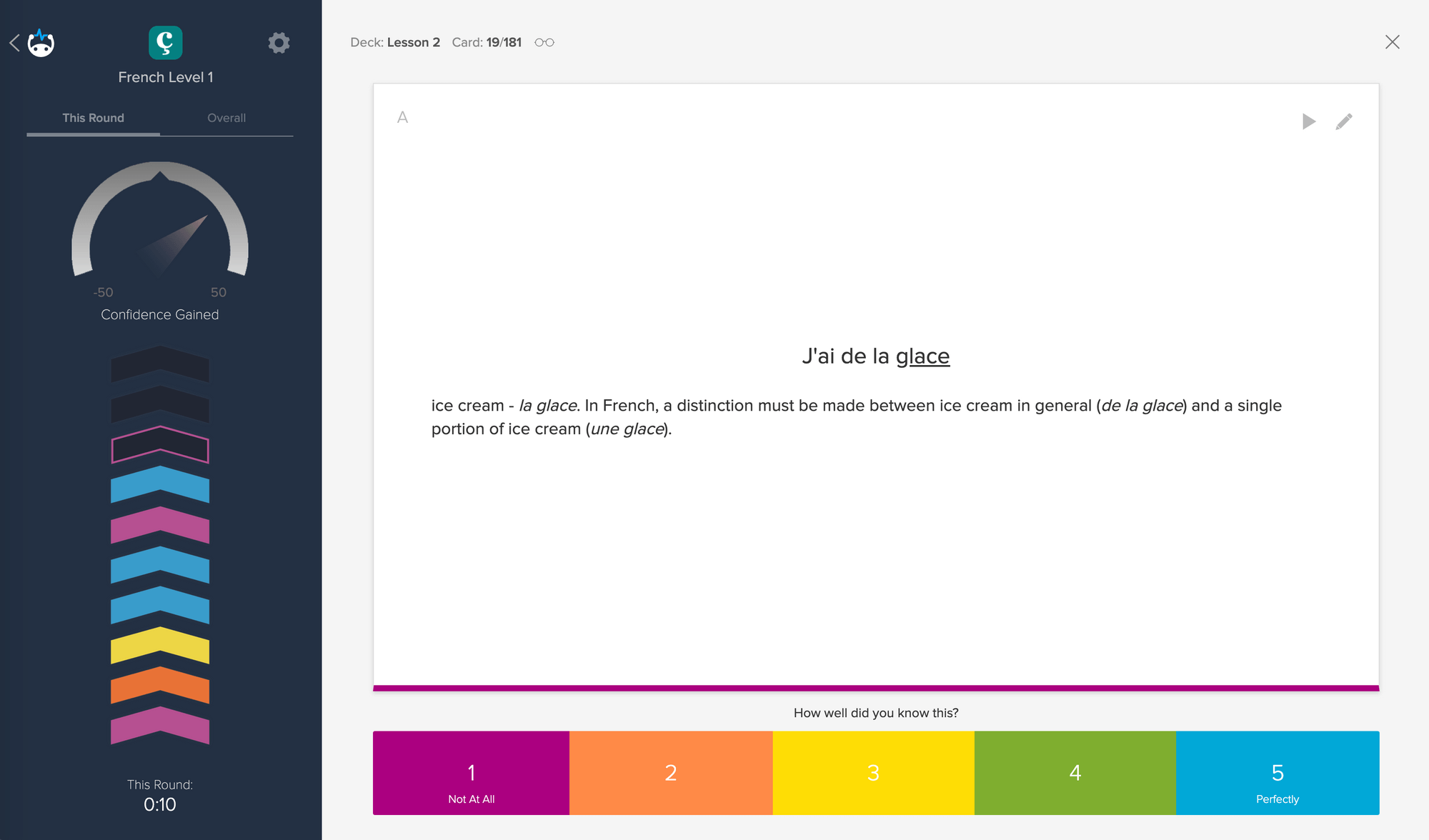 Learning here is also primarily about the simple principle: "Question ➡️ Answer". Afterwards, you evaluate your confidence of knowing the correct answer. The Brainscape algorithm then adjusts the review order according to the difficulty of the card. So it's very similar to Anki.
Where does Brainscape actually differ then? Besides the modern design, Brainscape offers a better way to share decks with others and work together on the same version. With Anki, you can share your decks and use others, but everyone has their own copy and the shared decks aren't really linked. 
You also notice the difference in the available downloadable decks. For example, in addition to card sets from other users, there are also "officially" created decks that are not only beautifully designed, but also contain only verified content. Of course, this added value also costs more money…
How much does Brainscape cost?
Brainscape also has a free and a pro version. If you only want to create, share and study your own cards, you can use Brainscape for free. To use the ready-made decks just mentioned or for more advanced features, you have to buy the pro version. 
This costs either: 
$9,99 a month – monthly subscription 
$6,99 per month – semester subsciption
$4,99 per month – yearly subscription
Or a one time fee of $129,99 
Pro features here include the following:
No limit on learning cards 
Learn cards with bookmarks 
Add images and audio 
Use advanced editor 
Copy cards from other users 
Reset learning statistics 
Import and export CSV 
Invert flashcards
I do Recall is also a flashcard web app with spaced repetition as the central concept. They even go one step further and call their flashcards linked spaced-repetition flashcards. This is because the flashcards are linked to the respective underlying learning materials, such as Word files, PDFs or PowerPoint files.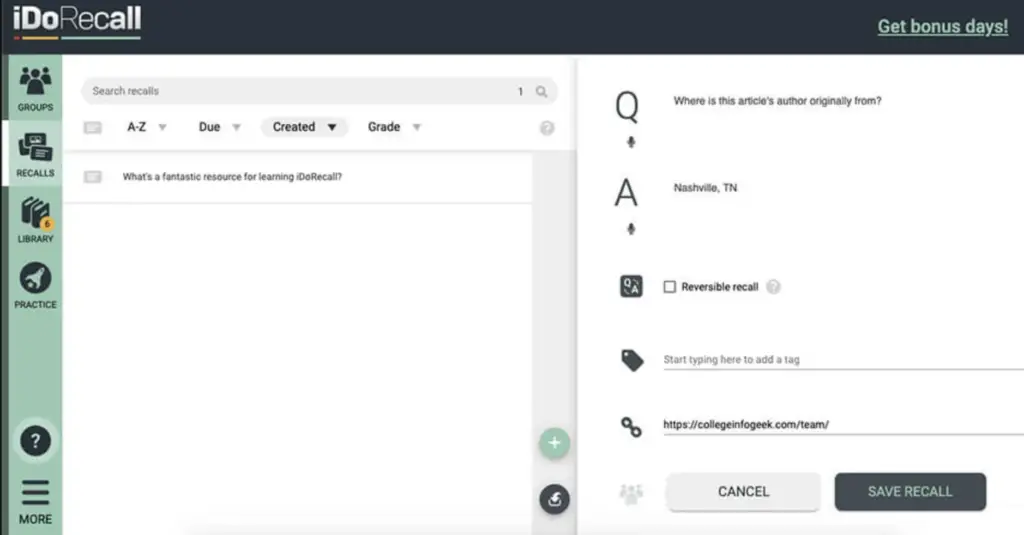 So before creating your own cards, you should first upload all the learning materials. When it comes to learning, I do Recall relies on the "less is more" principle. This means that the algorithm only shows the cards where you run the risk of forgetting the knowledge again. 
If you have difficulties answering a card, you can easily jump to the relevant part of the respective learning material and read up on the topic again in detail.
Like other apps in this list, I do Recall also emphasizes collaborative learning. Thus, study groups can be created to work together on the same flashcards. Teachers can even create a group for their class.
How much does I do Recall cost?
If you want to use I do Recall for free, you can. The free plan includes 200 flashcards, 10 learning materials (10 different files), 2 groups and 10 MB of storage. 
The premium version costs $16 (monthly subscription) or 8$ (yearly subscription). Here there are no more limitations and additionally you can use the desktop app (otherwise only web app in the browser), which will soon be available.
Memorion is an Android-only app for learning flashcards. Unlike many other apps in this list, it is completely free AND ad-free. Since there is no big company behind it, the app is of course a bit simpler and slimmer but still offers many great features: 
Memorion Features
Included vocabulary in 38 different languages (700-12,000 words each)
11 different learning modes (Hangman, multiple choice, listening comprehension exercises, etc.)
Cloze function
Import possibility from Anki or Memrise
Wikipedia support
Text-to-Speech
These were just a few of the many features of Memorion. It's best if you just have a look at the app.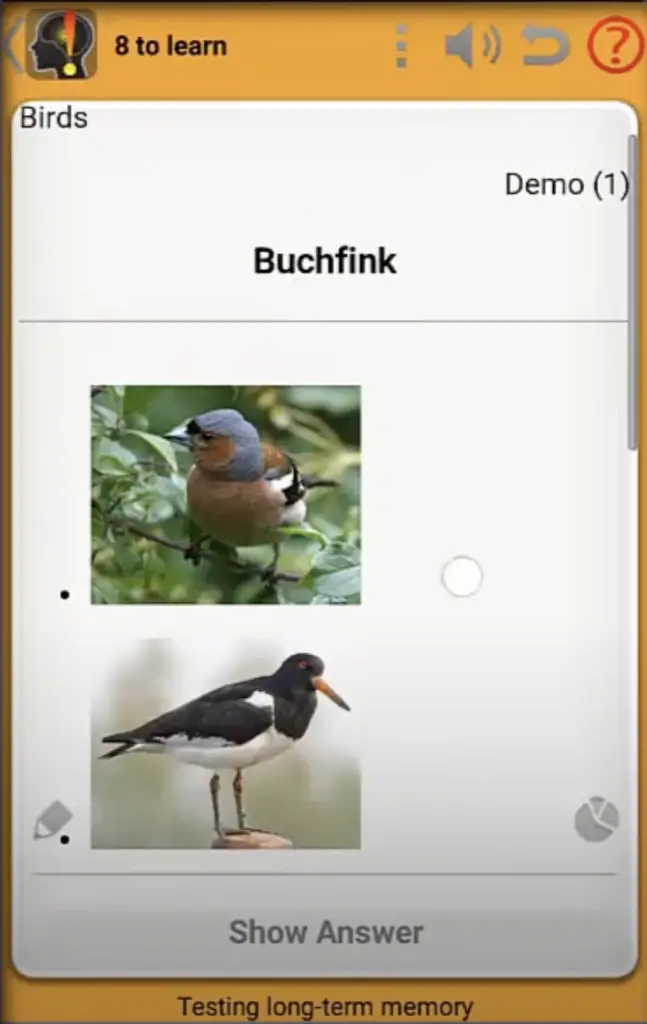 The last app in this list is again one that you can use completely for free. Mnemosyne (named after the Greek goddess of memory) is a simple flashcard app that is currently available for desktop devices as well as Android. 
The idea of the project is to create a particularly intuitive and uncomplicated user interface and to focus on learning. The overall impression of Mnemosyne is very similar to Anki itself.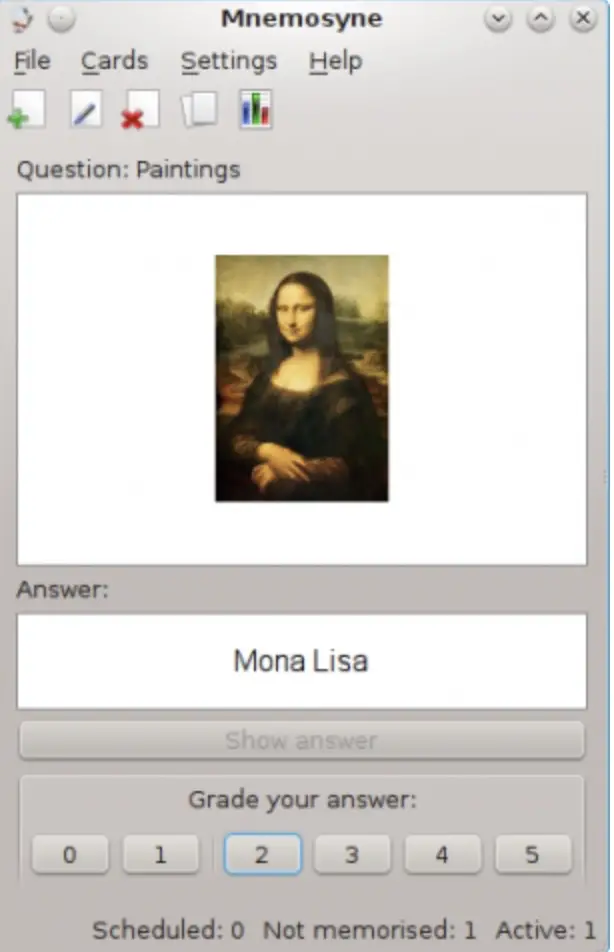 There is a lot of freedom and possibility for personalization and extension via plugins. There is also compatibility and the transfer of other apps, such as Anki, SuperMemo, or CueCard.
In addition, there are different learning modes that focus on either repeating your planned cards or learning new ones. There's also a "cramming mode" that lets you do as many repetitions as you want without interfering with your regular learning schedule.
Should You Move Away From Anki?
Many of the apps in this list offer very similar features. And these are mostly features that are available in Anki for free or can be added with extensions or add-ons. 
Of course, there are also areas where Anki comes up short. My main arguments for switching from Anki to one of the other apps would be:
A nicer and more intuitive user interface
More varied learning modes
Better opportunities for collaboration via shared learning stacks
Verified and official learning content
It's up to you to decide if these arguments are enough for you to use an app other than Anki and whether you also want to pay some money for it. I tested some of the apps while researching for this post and was impressed with the features. 
However, I think that when it comes to learning, often less is more and with Anki you have enough options to learn effectively. I will therefore stay with Anki for the time being. 
I can only recommend that you look at the individual apps and test them. Maybe you will discover your new learning app that makes studying even more fun. If that's the case, you should definitely switch. 
Study smart, not hard 🎓