Due to the sheer number of tasks to complete for work or study, we need a place where we can plan, write, and arrange everything, and Notion is the ideal companion for this. You can even add music to your Notion pages! 
In this article, you will learn how you can include all of your preferred music applications in your Notion. You will be surprised at how simple it is, and your working hours will become more endearing and pleasurable.

How to Embed Apple Music in Notion?
The procedure is relatively simple. There are only two easy steps to follow, and it won't take more than a minute and a half to add Apple Music to a Notion page.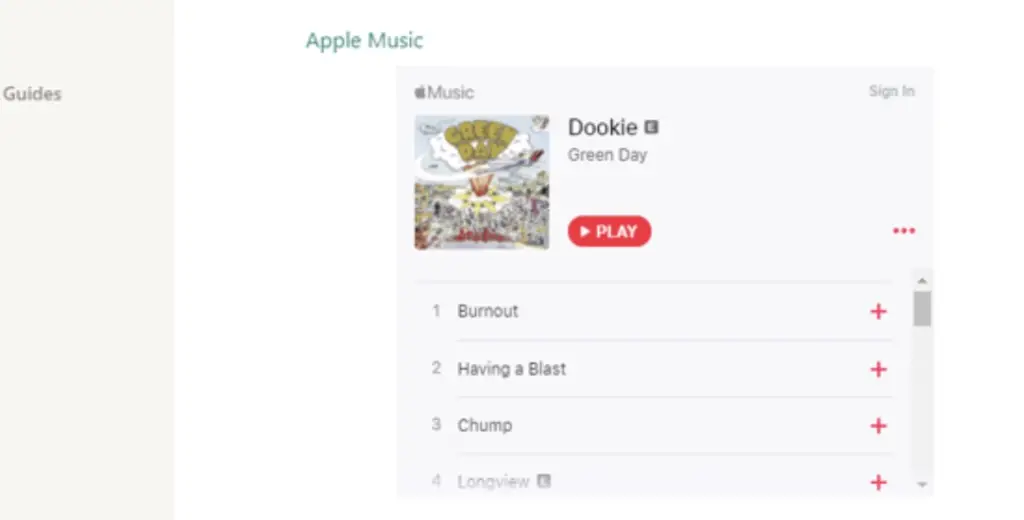 1. Open Apple Music
Once you've accessed Apple Music, select a playlist you enjoy listening to. 
Next, select the menu option represented by three dots located immediately above the initial song within the list. 
Next, choose Share and then Copy Embed Code. 
In the same way that a playlist organizes music, albums, podcasts, and so on, this will do the same for the following. You're not limited to only songs, albums, or playlists when using Notion with Apple Music.
2. Embed it to Notion
The next step is returning to Notion
Simply entering /embedding into Notion will do the trick. 
To get to the embed area, you can also type / and scroll down till you see it. 
Once you click Embed, a window will appear into which you can paste your Apple Music URL. 
Afterward, all that is left to do is paste it in and click the blue Embed link option.
How to Listen to Spotify in Notion?
Notion may be used with Spotify by selecting the three-dot menu in the upper-right corner of the desktop app, then clicking Sharing & Embed code next to a track, album, or playlist name. 
Doing so will generate an  iframe code. Next, copy your code and put it into Notion's Embed link option located at /audio. 
Your Spotify playlist, albums, and song will play in a resizable window on your Notion page. 

If you want to listen to music from Soundcloud instead, you can use the /audio command to import Soundcloud playlists into Notion.
How to Embed a YouTube Playlist in Notion?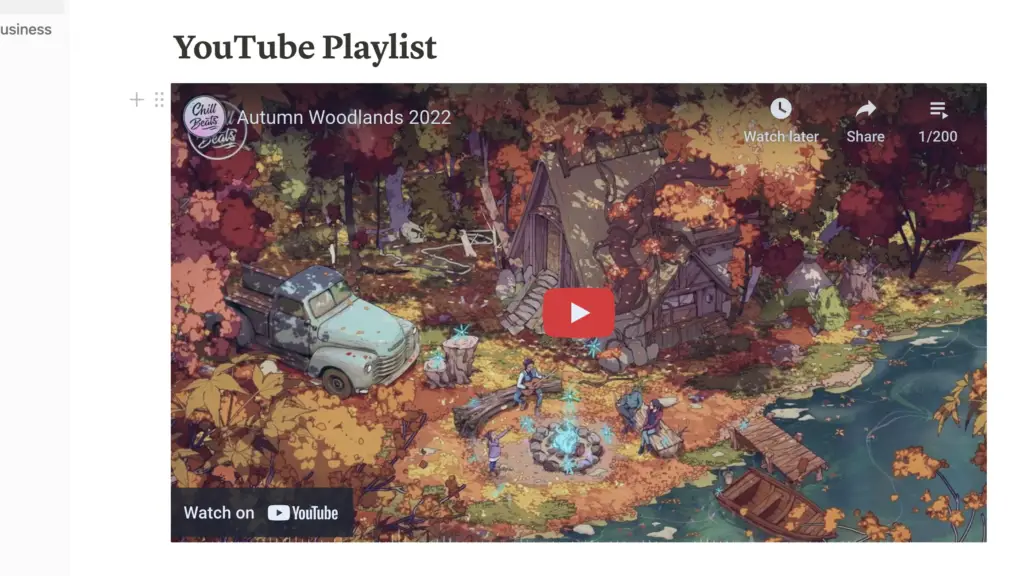 1. Make sure embedding is allowed
The Share button must be present for a video or song/podcast from YouTube Music to be embeddable. Video embedding on YouTube requires that the video be in public mode and not turned to private.
2. Copy embed code
As this is the final preparatory step before entering Notion, all that remains is to copy the video's embedding code. When you find the video and playlist you want, click "Share" and then choose "Embed" from the drop-down menu that appears. The final step is to select the grey COPY button within the right corner of the pop-up
3. Adding YouTube to Notion
When you're ready to embed the content we just copied, open Notion and type /embed, or just type / look for Embed, hit enter, and afterward paste the code. Finally, save the block by selecting "Embed link." 
When that happens, a link to your video on YouTube will appear on your Notion profile. You can move the YouTube Embed block about the page like any other Notion block. It's flexible, so feel free to relocate it wherever you like.
How to Embed Your Music Files in Notion? (MP3, WAV, or OGG Files)?
Now what about your own music files? Can you also add them to Notion? Yes, of course and here's how you do that:
Click the plus sign that appears towards the left of the line you want to add. Pick the audio option. Type "/audio" and hit the "enter" key.
Select upload from the resulting menu and select the audio file you wish to upload. 
You can also drag the audio file from your computer's desktop or even a folder directly into a Notion page. 
How Do You Embed Soundcloud to Notion?
For those who would like to use SoundCloud instead, you can follow the steps below to add your SoundCloud to your Notion.
1. Open your SoundCloud app
Upon entering Soundcloud, look for your desired song, album, or playlist. After locating the track, you wish to add to Notion, click the Share button to send it to your playlist. When this window appears, click Embed and copy the code from the Ccode area. 
There, you can adjust a few options to suit your individual preferences. As an example, you will notice that you may customize the Notion pop-up to display in a color of your choosing. Ours is set to the embedded pop-up by default, but you can customize yours as you like!
2. Be sure to make an embedding block
First, you have to create an embed block again.  If you don't want to use the /embed shorthand, you can type / and scroll down to Embed to make this block.
3. Time to link your SoundCloud to Notion
With the embed block in place, we can insert the code we copied in the first step. Then the block containing your Soundcloud track will appear. You should now be able to see the pop-up window for our music, complete with its title, artwork, and play/pause controls. 
Can You Add a Music Sheet to Notion?
Musicians on the go will love Notion. With the Notion app, composers can take their work on the go, especially if they plan on creating their music sheet. With the help of Scan Score, you can add your music sheet to Notion.
1. Download a smartphone scanner app (e.g. Scan Score)
2. Scan your sheet music
Use a scanner to take a picture of sheet music. Here is the best digital rendition of the score you can obtain. Even so, it does call for a supplementary tool. Importing from a file is a convenient option, but understand that quality is of the utmost importance. The quality of a scanned document will mirror the original image's quality. Picture or PDF. 
However, this approach is incredibly useful and quick if you already possess a visual representation of the music you wish to modify. You can use the scanner app on your mobile device to scan an image as a fallback. 
3. Time to edit your music
ScanScore will create a digital copy of the sheet music and show it alongside the original photograph. One of the best parts of the software is that you can use it to instantly and directly evaluate the similarities and differences between two musical works. You'll also notice that the display automatically zooms in on both sides as you zoom in on one.